Thursday November 6th - 6.30pm-8.00pm
What? Do you need any more persuading to come to the Big Green Bookshop?
David Quantick will be here, isn't that enough for you?
Writer, critic, journalist and all round legend, David will be here to read from, discuss and answer questions about his new book "How To Write Everything". There are few people more qualified to have penned this.
David really has written everything. As a television writer, he has written for The Thick Of It, The Day Today, Brass Eye, TV Burp and many other shows. He is also an award-winning writer on HBO's Veep and wrote the critically-praised Sky Arts Playhouse, Snodgrass. As a radio writer, he created Radio 4's One and Radio 2's The Blagger's Guide. His novel Sparks (described as 'excellent'; by Neil Gaiman) is a brilliant sci-fi comedy and his graphic series Louis Wain (created with Savage Pencil) was published in Alan Moore's Dodgem Logic.
As well as a series of music books and the official biography of Eddie Izzard, David wrote the Sunday Times best-seller Grumpy Old Men and has written for over 50 magazines and newspapers, from The Guardian and The Daily Telegraph to NME and Q. With Jane Bussmann, he created the world's first internet sitcom, The Junkies, and he is also the writer of several short films, including the highly-acclaimed Lot 13.
Tickets are just a fiver and David will be happy to sign copies of the book, which will be available at the Big Green Bookshop on the night at just £9.99.
Friday November 14th from 7.00pm

Story Cabaret - Storytime for Adults

Join us for an evening of storytelling for adults.
Enjoy brilliant stories told, sung, read and performed by inspiring storytellers in great company. AND there could be an Open-Mic spot.
Tickets only £3.00 click
here
to buy

Don't forget to bring your own refreshments
Sunday November 16th from 4.30pm - 6.30pm

Galley Beggars Press & Friends - Paul Ewen, Jonathan Gibbs, Lee Rourke.
You know how much we like Galley Beggar's Press don't you?
Well
this
is what I wrote about them last year when I was organising our Literary Festival.
Since I wrote this, A Girl Is a Half Formed Thing has won every book prize going and Galley Beggar's have continued to publish the most high quality, interesting and diverse books.
So, we thought to ourselves, why not invite them back to the shop. And the good news is that they agreed.
We have (at least) three brilliant authors appearing on this very special late Sunday afternoon event.
'A wonderful survey of the strange world of famous authors... Plug's exchanges with dozens of Booker-prizewinning authors are priceless. But the novel (really an ingenious hybrid of fact and surreal fantasy) takes on much extra resonance in the portrayal of Plug himself, an alcoholic chancer with a propensity for whisky-fuelled escapades.' - The Guardian

'Francis Plug is a brilliant, deranged new comic creation by the unknown writer Paul Ewen... Like all great comic creations he inspires deep sympathy, loyalty as well as laughter. As a portrait of literary life, it is as spot-on as George Gissing's New Grub Street... Francis Plug is the funniest book I ve read in years. I haven t laughed so much since Martin Amis's Money. I hope the hugely talented Ewen refuses all author talks, signings and festivals, and still sells half a million copies.' Sunday Times
Jonathan Gibbs has written Randall, a brilliant reimagining of the 90s Brit Art scene.
'Gibbs has produced the sort of novel you pray for as a reviewer... Galley Beggar Press [have] had recent success with A Girl is a Half-Formed Thing. Randall, I'd contend, is a better novel.' Tibor Fischer in The Guardian

'Both absurd and eerily believable... Gibbs's novel is more than mischief: as with all the best lampoons, it dissects things that really matter and have gone awry... The characterisation is disarmingly sympathetic and the prose fluid and inventive, right up to the final, playful revelation.' The Telegraph
Lee Rourke's latest powerful & dark novel, Vulgar Things was published earlier this year.
'A claustrophobic work that's ripe with alcohol and despair.' Guardian
'Sad, lost men looking for maps in the starry Essex sky, small-town strippers, absent mothers, angry brothers, planets photographed on smart phones, cider and a lot of rare steak – Rourke is on his way to becoming the J. G. Ballard of Southend-on-Sea.' Deborah Levy.
We'll aslo be joined by Sam Jordison, co-owner of Galley Beggars Press.
There'll be readings, chat, fun, and refreshments and if you come along, there'll be an opportunity to get some Christmas Shopping done too as we'll be offering a very special deal to those of you who come along.
Monday November 17th at 7.00pm
Sali Hughes and
India
Knight in Conversation.
Sold Out+++Sold Out+++Sold Out
What a wonderful evening we've got lined up for you. Sali and
India
will be here bringing their incisive and witty approach to modern life, tackling beauty and feminism head on, while celebrating the best bits of being a woman.
Sali Hughes is a leading broadcaster and journalist with over 15 years experience. She writes a regular beauty column for The Guardian and is a regular contributor on BBC Radio 5Live, Radio 4's Woman's Hour and Radio2
Her new book 'Pretty Honest' has just been published.
Sali draws on over 20 years of wisdom, advice and expertise to show real women how to make the most of makeup's physically and emotionally transformative powers. Covering everything from teenage skin to mature beauty, botox to bridal make-up, sickness to good health, it's a work that is part instruction manual, part love letter to makeup - in a writing style that combines beauty editor, feminist and painfully funny best friend.
India Knight is an author and Sunday Times journalist. She's the author of My Life on a Plate, Don't You Want Me?,The Shops, and Neris and India's Idiot-Proof Diet, as well as the accompanying bestselling cookbook Neris and India's Idiot-Proof Diet Cookbook and last year her hilarious novel Mutton was published.
Her new book, In Your Prime: Older, Wiser Happier has just been published.
Humane, witty, wise and full of practical advice: India Knight's guide to ageing is the book every woman has been waiting for. 'Our mothers' fifty is not our fifty. We have no map, no blueprint, no nothing.
Part guide, part memoir, part manual, in In Your Prime India seeks to provide proper, weighty answers to the questions women are asking themselves now. Covering a wide range of subjects from clothes and cosmetics, being a parent to older children, having older parents and what that entails, and of course, the menopause, In Your Prime is the definitive, much-needed guide to approaching middle age with confidence and panache.
These books will be available to ticket holders at a discounted price.
Please book early, as tickets will be very popular.
Tuesday November 23rd 7.00pm-8.30pm
Georgian London with Lucy Inglis, Sophia Tobin & more tba
Wednesday November 26th at 7.00pm-8.30pm

An Illustrated Reading with Matilda Tristram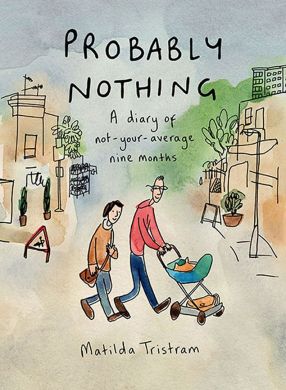 Matilda Tristram was 17 weeks pregnant and looking forward to having her first baby when she discovered she had cancer.
Her touching graphic memoir, Probably Nothing, published by Penguin, starts when Matilda was diagnosed and ends when her chemotherapy finished in October last year. Recording the awkward conversations, the highs and lows of treatment, and the reality of still having to queue too long for croissants, Matilda captures her experiences with style and warmth. Along the way she cherishes the small details of life, and learns not to sweat the big things.
Her beautiful and boisterous son James was born without complications.
Matilda studied animation at the Royal College of Art, graduating in 2008. She's worked as a children's writer, lecturer and filmmaker. She was co-writer on two animated BBC TV shows for CBeebies with Ragdoll Productions, The Adventures of Abney and Teal and Dipdap (so parents have a LOT to thank her for!)
Please join us for this special evening with Matilda when she will read from her wonderful book.
Refreshments will be available.
Tickets are just £3, which is redeemable on the book.
Tuesday December 2nd 7.00pm - 8.30pm
Brian Aldiss OBE in conversation
Brian Aldiss OBE is Britian's most prolific science fiction author and considered by many the true heir of H.G. Wells.
His works have long been associated with such iconic magazines as New worlds and New Wave. Aldiss published his first novel in 1958 and won his first Hugo in 1962 for Hothouse, a novel which hearkened back to his World War II experiences in Burma. His novels are associated with the New wave SF movement founded by Micheal Moorcock in the 1960's and with such sub-genres as space opera and far future. He is also known for his Hellonica trilogy, which earned him a Campbell award and numerous nominations.
More importantly he is reknown for his ambition to make SF a literarily acceptable genre. The publication of the short-lived journal Science Fiction Horizons in which he interviewed such literary luminaires as C.S.Lewis and William S. Burroughs and his history of SF, The Billion Year Spree (in which he favoured Shelley's Frankenstein as the first SF novel) in addition to his many novels and short stories where he combined SF themes with quality writing are evidence of his constant advocacy of Literary SF.
Over the last couple of years The Friday Project have been republishing a brilliant mix of Brian's fiction and non-fiction, and last month published the first volume of Brian's 300+ short stories, which are being collected together for the first time. This volume takes us through the 50s, from his very first story - A Book in Time, published in The Bookseller in 1954 and never seen again until now - right up to his establishment as a major new voice in science fiction by the end of that decade.
Brian will be in conversation with Scott Pack, from The Friday Project. There'll be an opportunity to ask Brian questions and he'll be happy to sign copies of his books.
Early bird ticket price for this incredible event is just £5.