Thursday September 4th – 7.00pm – 8.30pm
The Story of Baby P – Ray Jones in Conversation.
In England in 2007 Peter Connelly, a 17 month old little boy - known initially in the media reporting as 'Baby P' - died following terrible neglect and abuse. Fifteen months later, his mother, her boyfriend and the boyfriend's brother were sent to prison. But media attention turned on those who worked to protect children, especially the social workers and their managers, who became the focus of the reporting and of the blame.

Five years later they are still harassed by press reporters. This book tells what happened to 'Baby P', how the story was told and became focused on the social workers, its threatening consequences for those who work to protect children, and its considerable impact on the child protection system in England.
This is the first book to draw together all evidence available on this high profile case and will make a unique and crucial contribution to the topic. It will make essential reading for everyone who is concerned about child protection and the care of children and about the media's impact.
Ray will be here in conversation with
Patrick Butler
, editor of society, health and education policy for The Guardian.
There will also be an opportunity to ask questions and Ray will be happy to sign copies of the book.
Tickets for this are just £3, redeemable on the book.
Please book early.
September 11th at
Book Launch of The Great Below by Maddy Paxman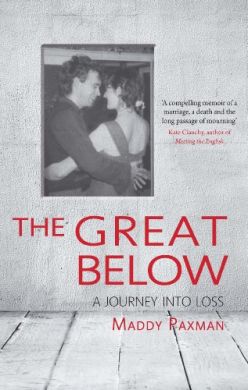 Please join us for the launch of local author Maddy Paxman's critically acclaimed new book.
Maddy's husband, the poet Michael Donaghy, died suddenly at the age of fifty, leaving her to bring up their young son alone. After the shock of his unexpected death, the funeral and public mourning of this well-loved and respected writer, Maddy had to help her son deal with the loss of his father and come to terms herself with being a lone parent.
In this extraordinary account, she describes how grief and bereavement reopened the wounds of her past – the loneliness and emotional neglect of her childhood – which had to be acknowledged and healed if she was to truly find her way back into life. She learned that there are gifts in pain and tragedy, if you have the courage to look for them. And she came to understand just what the incredible love of her husband had brought her, and how hard it was to lose that.
Written with warmth and humour as well as searing honesty, this book takes an unflinching look at both what it means to grieve, and what it means to love.
At the launch, Maddy will be discussing the book and answering any questions you may have.
Tickets are £3, redeemable on any book bought on the night.
Friday September 12th – 7.00pm – 8.30pm
Nick Davies – Hack Attack
At first, it seemed like a small story. The royal editor of the
News of the World
was caught listening to the voicemail messages of staff at
Buckingham
Palace
. In 2007 he and a private investigator were sentenced to prison and the case was closed. But Nick Davies felt sure there was more to it and began his painstaking investigation which ultimately exposed a world of crime and cover-up, of fear and favour - reaching all the way to the top.
This book is the definitive, inside story of one of the major scandals of our age. Drawing on exclusive interviews with private investigators, journalists, politicians, police officers and Murdoch executives, it blows the lid off
Fleet
Street,
Scotland
Yard - and
Downing Street
. It tells for the first time how Davies and a network of rebel lawyers, MPs and celebrities took on Rupert Murdoch, one of the most powerful men in the world. It takes us into the newsroom of the
News of the World
and exposes the bullying and law-breaking that went on there, and into the underworld of the private investigators who hacked phones, listened to live calls and bribed the police. Above all, this book paints an intimate portrait of the power elite which gave Murdoch privileged access to government, and allowed him and his people to intimidate anyone who stood up to them.
We're delighted that Nick will be at the Bookshop to talk about his experiences.
Hack Attack is a nail-biting account of an investigative journalist's quest, and is a shining example of the might of good journalism. It tells the story of what happened when truth caught up with power.
There will also be an opportunity to ask questions and Nick will be happy to sign copies of the book.
Tickets are just £5, redeemable on the book.
Please book early
Book Launch of Adventures in Stationery with James Ward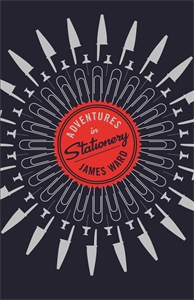 Please join James to celebrate the publication of his new book Adventures in Stationery: a Journey Through Your Pencil Case.
As James so eloquently put it;
'In their own way, the people who invented the paperclip, the drawing pin and the highlighter changed the world, and yet we've rewarded them by forgetting their names and overlooking the contributions they've made to modern life. Why aren't these people household names? Where are the statues built in their honour? Why don't they appear on our banknotes and postage stamps?'
James will be doing a short presentation, a show and tell if you will, highlighting some of his own personal favourite items of stationery.
This is a FREE event, but we ask that you bring with you your own favourite item of stationery.
James is co-founder of Stationery Club and the Boring Conference, featured in the Wall Street Journal and on Radio 4.
Do not miss this. It will be wonderful.
Thursday November 6th - 6.30pm-8.00pm
What? Do you need any more persuading to come to the Big Green Bookshop?
David Quantick will be here, isn't that enough for you?
Writer, critic, journalist and all round legend, David will be here to read from, discuss and answer questions about his new book "How To Write Everything". There are few people more qualified to have penned this.
David really has written everything. As a television writer, he has written for The Thick Of It, The Day Today, Brass Eye, TV Burp and many other shows. He is also an award-winning writer on HBO's Veep and wrote the critically-praised Sky Arts Playhouse, Snodgrass. As a radio writer, he created Radio 4's One and Radio 2's The Blagger's Guide. His novel Sparks (described as 'excellent'; by Neil Gaiman) is a brilliant sci-fi comedy and his graphic series Louis Wain (created with Savage Pencil) was published in Alan Moore's Dodgem Logic.
As well as a series of music books and the official biography of Eddie Izzard, David wrote the Sunday Times best-seller Grumpy Old Men and has written for over 50 magazines and newspapers, from The Guardian and The Daily Telegraph to NME and Q. With Jane Bussmann, he created the world's first internet sitcom, The Junkies, and he is also the writer of several short films, including the highly-acclaimed Lot 13.
Tickets are just a fiver and David will be happy to sign copies of the book, which will be available at the Big Green Bookshop on the night at just £9.99.