Friday October 3rd - from 7.00pm
Book Launch of Safe Planet with John Cowsill
John will be celebrating the publication of his new book Safe Planet: Renewable Energy plus Workers' Power
This optimistic book is a rallying cry for all those concerned about the destruction of the environment and its effect on all of our lives. If you are worried about your energy bills and the price of fuel, about the prospect of 'the lights going out', if you want to stop the environmental pollution and the alarming rate of species extinction, if you are against fracking, if you are for a cleaner better transport and energy infrastructure, if you are sick of the rich getting ever richer at the expense of the rest of us, you will enjoy this compelling and clear narrative about the crisis and its solution.
John will speak about the book for a little while, and there will be time for questions and contributions as you sup your wine and nibble (get there early!)
John Cowsill is a socialist and environmental activist and lives in Islington.
Thursday October 9th 7.00pm-9.00pm
Julie Burchill in conversation with Suzanne Moore.
Please join us for a very special event, as we welcome author, journalist and self declared militant feminist Julie Burchill to the Bookshop to discuss her new book Unchosen; Memoirs of a Philo-Semite with award-winning journalist, writer and Guardian columnist Suzanne Moore.
'They say you never get over your first love and in my case, they were right. But, typically greedy, my first love was a whole race of people - the Jews.' Bristling with strong opinions and fizzing with wit, Julie Burchill narrates the story of how a chance discovery of her father's copy of a World at War magazine about the holocaust kindled an obsessive love that still sustains her today. The book follows the course of this affair from her days as a rock journalist pretending to be Jewish, through her volatile marriage to a Jewish man, her public spats with anti-Israel writers, her dislike of Jewish humour but love for the state of Israel, her refusal to watch Schindler's List and other films or books that turn the holocaust into entertainment, to her attempts to learn Hebrew and eventual exile from her local synagogue for being too pro-Israel.

Unchosen is not a book for anyone who wants balance or an even-handed historical account of modern Jewish culture. It's a spiritual autobiography turned up to the maximum, a book that manages to range from the movingly personal to the raucously outrageous in the space of a single paragraph. No-one else but Julie Burchill would have even attempted a book like this.
This is the subject that matters the most to her and Unchosen is the most difficult, most important book she's ever tried to write. Fortunately for us, it's also the best.
Julie Burchill has been a journalist and author since the age of 17, bursting on to the scene as one of the "hip young gunslingers" at the New Musical Express. She's written for many publications including The Independent, The Sun, Grazia and the Guardian. She's written more than a dozen books, with the TV adaptation of one of them, Sugar Rush, winning an International Emmy. Her hobbies include spite, luncheon, philanthropy, writing short stories and torch songs and learning Modern Hebrew. She lives in Brighton.
Suzanne Moore began her career at Marxism Today. For over 20 years Moore has written for everything from Grazia to the London Review of Books. She has contributed to The New Statesman and authored two books of collected journalism (Looking for Trouble, 1991, Head over Heels, 1998). She has also contributed essays to books from Amazonians to Punk Rock So What. She has dealt with topics as diverse as the significance of underarm hair to an analysis of Blairism. Suzanne writes about politics, both personal and political, in all its many forms.
Tickets for this one off event are now on sale, priced £20 (including a copy of the book) or £10 (entrance only).
It goes without saying that this is going to be a very popular event, so please make sure you book early.
If you're unable to come on the night, but would like a signed copy of the book, they are available to pre-order HERE
Wednesday October 15th 7.00pm
Owen Jones Discusses "The Establishment".
TICKETS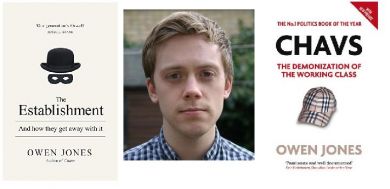 We're absolutely delighted
to bring you another amazing event at the bookshop, when on October 15th
we welcome Owen Jones.
Owen's a socialist, Guardian columnist and author of internationally bestelling book Chavs.
His new book The Establishment has just been published. In it Owen offers a biting critique of the British Establishment and a passionate plea for democracy. Behind our democracy lurks a powerful but unaccountable network of people who wield massive power and reap huge profits in the process. In exposing this shadowy and complex system that dominates our lives, Owen sets out on a journey into the heart of our Establishment, from the lobbies of
Westminster
to the newsrooms, boardrooms and trading rooms of Fleet Street and the City.
Exposing the revolving doors that link these worlds, and the vested interests that bind them together, Jones shows how, in claiming to work on our behalf, the people at the top are doing precisely the opposite. In fact, they represent the biggest threat to our democracy today - and it is time they were challenged.
Owen will be at the shop to present this argument, and to debate its implications.
Tickets for this are just £18.00 (which includes a copy of his book) or £5 (entrance only). Both Owen's books will be available on the night.
We hope you can make it, however if you are unable, you can pre-order signed copies of his book, which we'll post out after the event (free P+P in the UK)
Friday October 17th - from 7.30pm
Judy Dyble. Live in Concert
Judy Dyble is an award winning singer songwriter, who was one of the vocalists and founder members of the legendary band Fairport Convention. After Fairport and some early work with Giles Giles & Fripp, she became half of Trader Horne. More recently she's released two solo albums, to huge critical acclaim. I got to know Judy when I found out that she used to work in Wood Green Library! Isn't the internet amazing. She's been a big supporter of TBGBs since we decided to try and open the shop. Here's an interview I did with her in 2008.
I was also very lucky to see her perform at the 100 Club when her incredible album, Talking With Strangers was released. The intimate atmosphere of the club really highlighted Judy's amazing voice.
So, it is with immense pleasure that we can announce that on Friday October 17th, Judy will be performing LIVE at the even more intimate Big Green Bookshop, with Alistair Murphy and Jeremy Salmon.

I still can't believe it's actually going to happen!
Tickets for this are just £6 and available
HERE
. Be quick, because they will sell out very quickly.
Do NOT miss this (if you can help it).