Working Title Comedy presents an Edinburgh Festival Preview
Another great night of comedy to look forward to at The Big Green Bookshop.
Returning to the Fringe as a standard bearer of upcoming young talent, Rotating Bill is hosting a collection of comedy geniuses, each with a unique style and flair to keep the selection a variety box of brilliance. Four perform each time with special guests every day!
Stanley Brooks – Do you need inspirating? Stanley has won King Gong at the Comedy Store, stormed it at The Stand and even been featured in the BBC radio award nominated Trimble. He's here to help you get your dream job (admin). ***** Nouse
Ali Woods – Chatty, laid-back and easily distracted; Ali likes to point out the wonderful and confusing parts of life, and also his audience. Yorkshire Fringe Finalist, ***** Nouse.
Edmund Colley – As a "Great Character Comic" (Scan) and BBC New Comedy Award Semi Finalist, Edmund has a surreal but misguided view of himself, providing a deranged but hysterical attempt to understand the world around him. **** EdFringe Review, ***** Nouse
Mary O'Connell – Scathing, playful, laid back and assured, Mary brings her hilariously haughty comedy to the fringe, having won the people's choice vote in the Chortle Student Comedy Awards for London. ***** Nouse
Caitlin Powell – A flamboyantly furious comic with plenty on her mind to share, Caitlin brings an electric energy and fiery passion, from the biggest issues in the world down to the pettiest minutia. A tour de force of righteous anger. Chortle Student Comedy Semi Finalist.
As always, your compere will be the lovely Chris Brosnahan (a comedian; the Sun)
They are £5.00 (5.86 Euros)
Don't forget this night is 'Bring Your Own Refreshments'
---------------------------------------------------------------------------------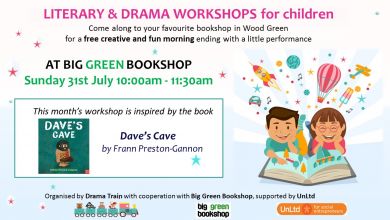 Join us for a morning of fun as we welcome back the brilliant Drama Train.
Here's what's going to happen.
After a reading of the hilarious "Dave's Cave" by Frann Prteston-Gannon, the children will make puppets and props culminating in a LIVE PERFORMANCE of the book.
Ivona and Adela from Drama Train will be here to help and inspire the kids and if it's anything like last month it is sure to be a lot of fun.
The activities are aimed a children aged 3-8, but this is flexible.
It starts at 10am and Tim or Simon will be here to supply tea, coffee and biscuits (and maybe flapjacks) to everyone who turns up.
Hope you can make it.
Thursday August 11th - 7.00pm
Ten Building that Changed Post-war Britain

with John Grindrod
John Grindrod is the author of CONCRETOPIA, a witty and revealing history of our post-war rebuilding, described by the Independent on Sunday as "a new way of looking at modern Britain.
Join us on August 11th, as John presents this fascinating talk.

"How did blitzed, slum-ridden and crumbling 'austerity Britain' became, in a few short years, a space-age world of concrete, steel and glass? Discover the story of Britain's post-war rebuilding in this whistle-stop tour of ten extraordinary, brilliant or downright bizarre buildings that represent the story of this turbulent period of our history, from 1945 to 1979. Travel from the days of prefabs and the birth of the Welfare State through to the concrete brutalism and ambitious plans that changed towns and cities up and down the country."
This is a FREE event, but please let us know if you intend to come along.
The book will be available to purchase at just £9.99.