Thursday June 1st – 7.00pm
Erin Kelly in conversation with Winnie M Li and Suzanne Leal
£3 (redeemable on the night) BUY TICKETS HERE.
Please join us for a special evening for fans of Crime fiction, as we welcome three of the best to the bookshop. Erin Kelly, author of, among others, The Ties That Bind and The Poison Tree, has just had her new psychological thriller He Said, She Said published. Erin will be in conversation with Winnie M Lee, author of Dark Chapter, and Suzanne Leal, author of Teacher's Secret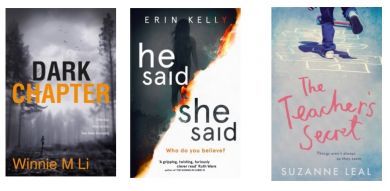 He Said, She Said by Erin Kelly
In the hushed aftermath of a total eclipse, Laura witnesses a brutal attack. She and her boyfriend Kit call the police, and in that moment, four lives change forever. Fifteen years on, Laura and Kit live in fear. And while Laura knows she was right to speak out, she also knows that you can never see the whole picture: something is always hidden...something she never could have guessed.
Dark Chapter by Winnie M Li
Johnny is a 15-year-old Irish teenager, living a neglected life on the margins of society. On a bright spring afternoon in West Belfast, their paths collide during a horrifying act of violence. In the aftermath, each is forced to confront the chain of events that led to the attack.
Inspired by true events, this is a story of the dark chapters and chance encounters that can irrevocably determine the shape of our lives.
Teacher's Secret by Suzanne Leal
A small town can be a refuge, but while its secrets are held, it's hard to know who to trust and what to believe. The Teacher's Secret is a tender and compelling story of scandal, rumour and dislocation, and the search for grace and dignity in the midst of dishonour and humiliation
After the "in conversation", there'll be a Q+A and the authors will be very happy to sign their books for you.
Tickets are just £3, which is redeemable on any of the books on the night.
Refreshments will be available.
DON'T MISS IT!
Wednesday June 14th.
7pm- 9pm
Enemies of the People.. With Sam Jordison & special guest?
We are absolutey delighted to have Guardian journalist and author Sam Jordison here, to discuss his new book "Enemy of the People".
Something has gone wrong. We're living in an age of celebratory racism, extreme inequality, uncertainty and fear. We're governed by people who claim to be populist but who seem to hate everyone. There are idiots at the wheel and we're heading for a cliff in a big red bus and no one knows how to save us.
Sam Jordison's new book Enemies Of The People reveals who has taken us to this dizzying precipice. It provides the actual, non-alternative facts about Donald Trump, Nigel Farage, Vladimir Putin and their charming friends - and also explains where they got their crazy ideas. Why did people turn so mean?
How did so-called social networks like Facebook become so very anti-social? Why did anyone think it would be a good idea to privatise railways? Just how much should we fear the robots? Why is no one doing anything about Global Warming? Why is no one doing anything about Boris Johnson either?
This book explains all those vital questions and more.
Remember, though – they say history is written by the victors and fortunately, many of those currently winning can't seem to write more than 140 characters at a time. This gives us the golden opportunity to set the record straight and snatch back the narrative. But if we've any chance of victory, we first need to know our enemy.
This is a free event, but please email enquiries@biggreenbookshop.com if you want to come along, so we can make sure twe can accomodate.
Thanks.
Thursday June 15th – 7.00pm
An Evening with Isabel Costello
Please join us for an evening to help celebrate the recent launch of Isabel Costello's wonderful new novel Paris Mon Amour.
When Alexandra discovers that her husband Philippe is having an affair, she can't believe he'd risk losing the love that has transformed their lives. Still in shock, she finds herself powerfully attracted to a much younger man. Jean-Luc is twenty-three, intense and magnetic.
He's also the son of Philippe's best friend. With every passionate encounter, Alexandra is pulled deeper into a situation that threatens everyone she holds dear.
Isabel will be talking about her book and reading from it and there'll also be a chance to ask her questions (and obviously buy her book, which she'll be very happy to sign).
This is a FREE event and refreshments will be available.
Look forward to seeing you here.
Thursday June 29th – 7.00pm
Keith Lowe – "The Fear & The Freedom", Book Launch
We're delighted to be holding the official launch of historian Keith Lowe's latest book, The Fear and The Freedom, published by Penguin, here on June 29th.
The Second World War was one of the most catastrophic events in human history. But how did the experience and memory of bloodshed affect our lives? The new order, as it emerged after 1945, saw the end of European empires and the birth of two new superpowers, in a new, global Cold War. Scientists delivered new technologies, politicians fantasized about overhauled societies, some argued for global government, others for independence.
It was an era of wonder and terror, and it resonates in the arguments about nationalism, immigration and globalisation that we have today. As well as analyzing the major changes and they myths that emerged, The Fear and the Freedom uses individual stories to show how leaders and ordinary people coped with the post-war world and turned one of the greatest traumas in history into an opportunity for change. This is the definitive exploration of the aftermath of WWII - and the impact it still has.