Electric Arches
is an imaginative exploration of black girlhood and womanhood through poetry, visual art, and narrative prose.
Lending stark realism with the surreal and fantastic, Eve's narrative takes us from the streets of 1990s Chicago to the story of an alien arrival in an unspecified future, deftly navigating the boundaries of space, time, and reality with delight and flexibility.
Eve imagines familiar figures in magical or surreal circumstances—blues legend Koko Taylor is a tall-tale hero; LeBron James travels through time and encounters his teenage self. She identifies everyday objects—hair moisturizer, a spiral notebook—as precious icons.
Her visual art is spare, playful, and poignant—a cereal box decoder ring that allows the wearer to understand what black girls are saying; a teacher's angry, subversive message scrawled on the chalkboard.
Electric Arches
invites fresh conversations about race, gender, the city, identity, and the joy and pain of growing up, through a distinctive new voice.
Eve is based in Chicago, but is making a whistlestop trip to London and we couldn't be more pleased that she's coming to the bookshop.
For more information about Eve, please visit her website
HERE
.
(photo credit RJ Eldridge)
Thursday July 6th – 7.00pm
Laughs Aplenty with Stuart Heritage and Tracy Whitwell.
God, we could do with a laugh right now, couldn't we?
So, with this in mind we are delighted to welcome two brilliant authors to the shop to lift your spirits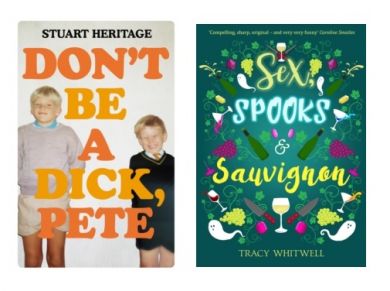 Stuart Heritage has written for the Guardian since 2009. His weekly column about his young son 'Man With a Pram' ran in the paper's Family section between 2015-16. His new book, Don't Be a Dick, Pete has just been published.
Stuart Heritage got where he is today by being decent, thoughtful, hard-working and kind. He is, in short, a model citizen. The favourite son.
His younger brother Pete is quick-tempered, peevish and aggressively pig-headed and, for a while, known to his friends as 'Shagger'. But now, Stu has returned to his hometown to discover that Pete has taken his place. Practical and resourceful where Stu is not, Pete has become a shoulder to lean on.
He is now undoubtedly the better son. And all at once Pete and Stu have to reevaluate their fraternal dynamic. It should be easy, but it isn't.
Because, well...Pete's a dick.
Don't Be A Dick, Pete is Stuart Heritage's unconventional and laugh-out-loud biography of his brother. It is a hilarious examination of home and family; sons, fathers, fatherhood, sibling relationships and how hard it is to move on in a system that's loaded with several decades of preconceived ideas about you.
Tracy Whitwell is an actress who has worked in British film and television, including hit shows Playing the Field, Soldier Soldier and Peep Show.
Her new book Sex, Spooks and Sauvignon is the first instalment in the Adventures of an Accidental Medium.
Meet Tanz, wine and cocktail enthusiast and Geordie actress turned accidental psychic.
To make ends meet, Tanz gets a job in a new-age shop while she waits for the next big acting job to come along and make her fortune. There she finds she has more in common with the 'nutters' than she imagined.
Voices in her head become ghosts who just won't leave. And when they start giving her clues to an unsolved murder, things start to get tricky…
There'll be a discussion and readings plus lots more besides. The author's books will be available to purchase on the night and they'll be very happy to sign copies for you.
It should be lots of fun!
This is a free event, but please contact us if you'd like to attend, so we can reserve a place for you.
Enquiries@biggreenbookshop.com or call 020 8881 6767
Wednesday July 26th - 7.00pm
Jan Ellis, Simon Booker, Lisa Cutts & William Shaw
The second of our series of crime panel events, bringing you some of the very best and most exciting crime & mystery writers out there.
Tonight we have four brilliant authors for you.
Jan Ellis – author of The Bookshop Detective.
When a ghost ship is spotted on the horizon one spring evening, bookseller Eleanor decides to investigate the myths and legends of Combemouth, the seaside town where she runs The Reading Room. As Eleanor digs deeper into the town's history, she becomes intrigued by a Victorian crime report and is determined to find out what happened to a boy at the centre of the court case. As she begins to uncover the truth - aided by the vicar but somewhat stalled by the local librarian - she has a challenge on her own horizon…
For four long years, journalist Morgan Vine has campaigned for the release of her childhood sweetheart Danny Kilcannon - convicted, on dubious evidence, of murdering his 14 year-old stepdaughter. When a key witness recants, Danny is released from prison. With nowhere else to go, he relies on single mum Morgan and her teenage daughter, Lissa.
But then Lissa goes missing. With her own child now at risk, Morgan must re-think all she knows about her old flame - 'the one that got away'. As the media storm around the mysterious disappearance intensifies and shocking revelations emerge, she is forced to confront the ultimate question: who can we trust...?
The death of a local sex offender places the police officers at East Rise incident room under immense pressure - they must treat this case like any other murder, but they know what Albie Woodville did and can feel little sympathy. Except, as the investigation progresses, it becomes clear this isn't just a one-off killing - someone is out for revenge...
Sergeant William South has always avoided investigating murder. A passionate birdwatcher and quiet man, he has few relationships and prefers it that way.
But when his only friend is found brutally beaten, South's detachment is tested. Not only is he bereft - it seems that there's a connection between the suspect and himself. For South has a secret.
He knows the kind of rage that killed his friend. He knows the kind of man who could do it. He knows, because Sergeant William South himself is a murderer.
Moving from the storm-lashed, bird-wheeling skies of the Kent Coast to the wordless war of the Troubles, The Birdwatcher is a crime novel of suspense, intelligence and powerful humanity about fathers and sons, grief and guilt and facing the darkness within.
There'll be a discussion and readings plus lots more besides. The authors books will be available to purchase on the night and they'll be very happy to sign copies for you.
It should be lots of fun!
This is a free event, but please contact us if you'd like to attend, so we can reserve a place for you.