Wednesday November 26th at 7.00pm-8.30pm

An Illustrated Reading with Matilda Tristram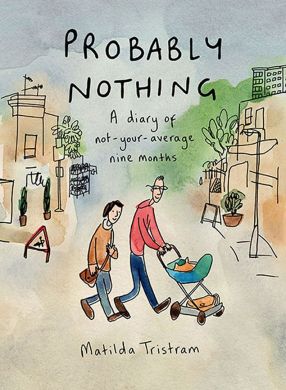 Matilda Tristram was 17 weeks pregnant and looking forward to having her first baby when she discovered she had cancer.
Her touching graphic memoir, Probably Nothing, published by Penguin, starts when Matilda was diagnosed and ends when her chemotherapy finished in October last year. Recording the awkward conversations, the highs and lows of treatment, and the reality of still having to queue too long for croissants, Matilda captures her experiences with style and warmth. Along the way she cherishes the small details of life, and learns not to sweat the big things.
Her beautiful and boisterous son James was born without complications.
Matilda studied animation at the Royal College of Art, graduating in 2008. She's worked as a children's writer, lecturer and filmmaker. She was co-writer on two animated BBC TV shows for CBeebies with Ragdoll Productions, The Adventures of Abney and Teal and Dipdap (so parents have a LOT to thank her for!)
Please join us for this special evening with Matilda when she will read from her wonderful book.
Refreshments will be available.
Tickets are just £3, which is redeemable on the book.
To further encourage you to come along (as if you need further encouragement) we'll be holding a very special 3 for 2 offer on ALL the books in the shop throughout the evening. So make sure you bring your wallets/purses.
Tuesday December 2nd 7.00pm - 8.30pm
Brian Aldiss OBE in conversation
Brian Aldiss OBE is Britian's most prolific science fiction author and considered by many the true heir of H.G. Wells.
His works have long been associated with such iconic magazines as New worlds and New Wave. Aldiss published his first novel in 1958 and won his first Hugo in 1962 for Hothouse, a novel which hearkened back to his World War II experiences in Burma. His novels are associated with the New wave SF movement founded by Micheal Moorcock in the 1960's and with such sub-genres as space opera and far future. He is also known for his Hellonica trilogy, which earned him a Campbell award and numerous nominations.
More importantly he is reknown for his ambition to make SF a literarily acceptable genre. The publication of the short-lived journal Science Fiction Horizons in which he interviewed such literary luminaires as C.S.Lewis and William S. Burroughs and his history of SF, The Billion Year Spree (in which he favoured Shelley's Frankenstein as the first SF novel) in addition to his many novels and short stories where he combined SF themes with quality writing are evidence of his constant advocacy of Literary SF.
Over the last couple of years The Friday Project have been republishing a brilliant mix of Brian's fiction and non-fiction, and last month published the first volume of Brian's 300+ short stories, which are being collected together for the first time. This volume takes us through the 50s, from his very first story - A Book in Time, published in The Bookseller in 1954 and never seen again until now - right up to his establishment as a major new voice in science fiction by the end of that decade.
Brian will be in conversation with Scott Pack, from The Friday Project. There'll be an opportunity to ask Brian questions and he'll be happy to sign copies of his books.
Early bird ticket price for this incredible event is just £5.