Monday May 2nd - from 5pm
Book Launch for Farah Mendlesohn's New Book
"Children's Fantasy Fiction, An Introduction"
Please come along to help Farah celebrate the launch of her new book.
Fantasy has been an important and much-loved part of children's literature for hundreds of years, yet relatively little has been written about it. Children's Fantasy Literature traces the development of the tradition of the children's fantastic - fictions specifically written for children and fictions appropriated by them - from the sixteenth to the twenty-first century, examining the work of Lewis Carroll, L. Frank Baum, C.S. Lewis, Roald Dahl, J. K. Rowling and others from across the English-speaking world.
The volume considers changing views on both the nature of the child and on the appropriateness of fantasy for the child reader, the role of children's fantasy literature in helping to develop the imagination, and its complex interactions with issues of class, politics and gender.
The text analyses hundreds of works of fiction, placing each in its appropriate context within the tradition of fantasy literature.
Farah's a Hugo Award winning auhtor, whose knowledgeof Science Fiction and Fantasy literature is frankly incredible. She's also one of our most loyal and supportive customers.
If you're free to come along, it'd be great to see you.
Friday May 13th – 7.00pm
Launch Party for 'An Accidental Musician', Judy Dyble's Autobiography.
Please join us for Judy's glorious return to the Bookshop (Judy will be performing too!)
The original female singer for Fairport Convention, Judy left the band after their first album, aged 19 (replaced by Sandy Denny).
Judy's boyfriend at the time, Ian McDonald answered an ad in Melody Maker and joined Giles, Giles and Fripp, the forerunner of King Crimson. Judy joined this band, but left when her relationship with McDonald ended.

She then teamed up with ex-Them singer Jackie McAuley to form Trader Horne, but in 1973, Judy left the music business when she married DJ Simon Stable (Count Simon De La Bedoyere). Simon died in 1994, and apart from the odd appearance at Fairport Convention's Cropredy Festival, Judy didn't perform again for many years.
In 2003, she restarted her musical career and produced several albums to great critical acclaim. 2015's 3-CD anthology sold out immediately and was well reviewed in Prog magazine, amongst others.
Judy's autobiography, written with journalist and author Dave Thompson captures Judy's extraordinary story perfectly.
Please come along to help celebrate with Judy. As an added bonus she'll be joined by Alistair Murphy, Jeremy Salmon to (as she put it) "sing a bit" too!
The book will be available on the night and Judy will be very happy to sign copies for you.
This is a FREE event, but judging by her last appearance at the bookshop, it will be VERY busy, so please make sure you get here early.
Tuesday May 24th – 7.00pm-9.00pm
A Celebration of National Anthems
With Alex Marshall and Rhodri Marsden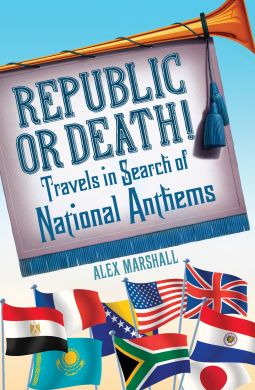 There are a couple of hundred songs that are sung by millions across the world each day, that school children know by heart and sports fans belt out perfectly even after eight beers. And they aren't pop songs – they are national anthems.
In his brilliant new book Republic or Death,

Alex Marshall

brings the incredible stories of the world's national anthems to life. Taking in Europe, the Middle East, Asia, Africa and the Americas North and South, he embarks on an adventure that includes cycling the route along which French revolutionaries marched as they first sang La Marseillaise; entering a competition for the best singer of the Star-Spangled Banner; and attempting to bribe his way to an audience with the king of Nepal in order to uncover the story behind the only national anthem written on a Casio keyboard.
The book will be available at the shop for £8.99 and Alex will doubtlessly be happy to sign copies for you.
Alex will be joined by the multitalented and charming

Rhodri Marsden

.
Rhodri is currently in no less than three bands.

Scritti Politti

,

Prescott

and everybody's favourite TV theme tribute band

Dream Themes

. In 2014 he talked (and played) at The Boring Conference, highlighting the similarities between 198 of the World's national anthems. It went down a storm. And for one night only Rhodri will be recreating this momentous event right here at the Big Green Bookshop.
This is a FREE event, but please let us know if you plan on coming along, as I have a feeling it will be VERY popular.
Don't miss it!