The Man Booker Prize Book Challenge. It's Back!
From Wednesday September 13th until Tuesday October 17th
Once again, the nation holds its breath in anticipation of the announcement of The Man Booker Prize shortlist on September 13th.
London will grind to a standstill and police cordons will be set up to hold back fans hoping to catch a glimpse of the judges entering the hallowed Booker Towers to announce their decision.
And media attention couldn't be more intense. Heightened security measures have been introduced to ensure the Longlisted authors' protection as Booker frenzy continues to sweep the nation.
So, who is it going to be?? Only the judges know, but we hear from an anonymous source that the six shortlisted authors are all likely to come from the 13 books on the longlist.
And here is that Longlist.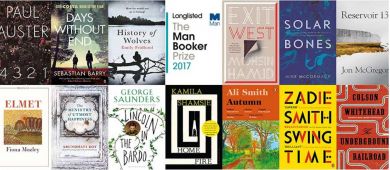 4 3 2 1 by Paul Auster (Faber & Faber)
Days Without End by Sebastian Barry (Faber & Faber)
History of Wolves by Emily Fridlund (Weidenfeld & Nicolson)
Exit West by Mohsin Hamid (Hamish Hamilton)
Solar Bones by Mike McCormack (Canongate)
Reservoir 13 by Jon McGregor (4th Estate)
Elmet by Fiona Mozley (UK) (JM Originals)
The Ministry of Utmost Happiness by Arundhati Roy (Hamish Hamilton)
Lincoln in the Bardo by George Saunders (Bloomsbury Publishing)
Home Fire by Kamila Shamsie (Bloomsbury Circus)
Autumn by Ali Smith (Hamish Hamilton)
Swing Time by Zadie Smith (Hamish Hamilton)
The Underground Railroad by Colson Whitehead (Fleet)
So, I am delighted to announce that The Big Green Bookshop will be running its Booker Book Challenge again *cheers*.
Here's how it works;
As soon as the shortlist is announced, we'll order copies of each of the books, which we'll hopefully get by Thursday September 14th.
Over the next five or so weeks the idea is to make a concerted effort to read as many of the six shortlisted books as you can.
We'll meet on Tuesday October 17th, the evening the winner is announced, to discuss each of the books. After a heated debate, and a glass or two of wine, the group will vote for whom they think should win. We'll then watch the televised ceremony, and hopefully cheer as our choice and the actual winner is one and the same. Or more likely, shout and curse as our least favourite book takes the glory.
We realise that the cost of buying six books, some of them hardback is somewhat budget busting. So for our local customers, rather than asking you to buy all the books at full price we've come up with a few solutions;
•For a one off payment of £30, we will be a lending library, where you can borrow each of the books for a week each. You can also keep your favourite book after the ceremony. Pre-order this deal HERE.
•We will offer a discount of 20% on the shortlist.
•A group of you could share the cost, so for example 3 of you could buy 2 books each.
However you decide to do this, we will do everything we can to make the books accessible to you. The important thing is that you're able to join in.
It's a challenge to read six books in five weeks (especially books you wouldn't necessarily read), but if you think you're up for it, get involved.
Please let me know if you're planning on getting involved, so I can order enough books.
Thursday October 19th – 7.30pm
Welcome to the World of Andrea Aste
If men define situations as real, they are real in their consequences.
(Thomas Theorem)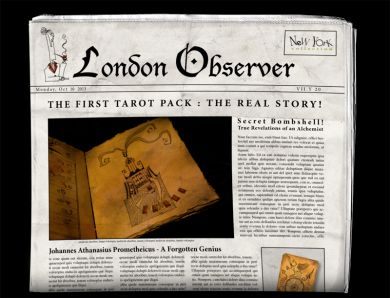 Welcome to Andrea Aste's The Book of Shadows multimedia project. It's an extremely detailed parallel world so realistic as to create the illusion of being factual or, as he calls it, a non-reality reality experience. It's an adventure in mystery and the danger of untold truths where alchemy, magic and science are intertwined in secret ciphers and cunning plots all played out against a background of ancient conflicts between occult powers.
The author along with the amazing theatre performer and magician, Neil Kelso, will do fun and interpretive readings from some of the most intriguing passages from the Alchemist's book, alternating in Italian and English.
Excerpt clips from the fictional documentary The Book of Shadows will be screened.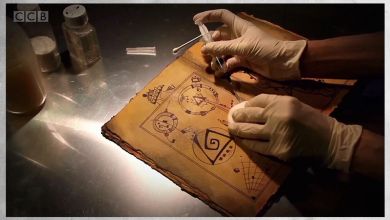 London, 2010. The mysterious remains of an alchemy laboratory, dating from the 17th century, is accidentally unearthed. It is of exceptional importance and is comparable to the find of King Tut's tomb. Hidden away for centuries, the first tarot cards supposedly ever created along with an obscure manuscript, both in an unknown alphabet and symbols, are both brought to light.
Thanks to several years of research by some of the most prestigious universities in the world, the CCB History can now present the most important historical discovery of the century: the full decoding of the mysterious manuscript and Tarot cards, offering the most accurate and complete documentation every assembled, finally unveiling centuries of jealously guarded secrets
For more information check out these links
https://www.youtube.com/watch?v=a9b4tvIp6II
Don't miss out.
T
his will be like nothing we have ever seen in the shop before.
Friday October 27th- 7pm-9pm
Creative Workshop with Emma Mitchell
(ticket price includes workshop, book, sketchbook and refreshments)
Emma Mitchell is a popular designer-maker, craft teacher and naturalist. She lives in a tiny village on the edge of the Cambridgeshire Fens, where she runs nature-inspired craft workshops and creative winter retreats. Emma has been published and featured in the Guardian, Mollie Makes, Country Living and she's also the creator and co-editor of Mollie Makes Comic Relief Crafternoon magazine, which has channelled the UK's love of making into raising £100,000 so far for projects in the UK and Africa.
Emma's first book,

Making Winter

is a creative survival guide for the colder months. It is full of beautiful craft projects, delicious recipes and gentle encouragement to get out on nature walks, all of which will help to fend off dreary feelings and keep blues at bay in the depths of winter.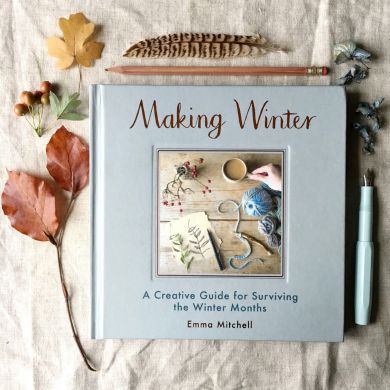 During this workshop Emma will talk about the ways in which making, craft and contact with nature can be as soothing as yoga and can help mental health.
She will then teach you how to draw plants and feathers she has gathered from the wood behind her cottage, along with stylised wreaths.
At the end of the workshop there will be homemade cake and drinks.
An A5 sketchbook and a copy of Making Winter is included in the price of this workshop.
There are just 12 spaces available, so please book early.
Sunday October 29th – 6pm
An Evening with Harry Leslie Smith
This is an event we've been working on for some time and I am more than thrilled that we can now announce that the amazing Harry Leslie Smith will be visiting the Big Green Bookshop on Sunday October 29th to discuss his new book "Don't Let My Past Be Your Future".
Harry's a survivor of the Great Depression, a second world war RAF veteran and an activist for the poor and for the preservation of social democracy.
In September 2014 Harry Leslie Smith electrified the Labour Party conference with this incredible speech about the NHS and since then he's written bestselling books, including the wonderful "Harry's Last Stand".
Don't Let My Past Be Your Future is his latest.
Now in his nineties, Harry wanders through the streets of his youth and wonders whether anything has actually changed. Britain is at its most dangerous juncture since Harry's youth - the NHS and social housing are in crisis, whilst Brexit and an unpopular government continue to divide the country - but there is hope. Just as Clement Attlee provided hope in 1945, Labour's triumphant comeback of June 2017 is a beacon of light in this season of discontent. Britain has overcome adversity before and will do so again - a new nation will be forged from the ashes of grave injustice. Moving and passionate, Don't Let My Past be Your Future interweaves memoir and polemic in a call to arms.
Above all, this book is a homage to the boundless grace and resilience of the human spirit.
There'll be a chance to ask Harry questions and he'll be very happy to sign copies of his book, which will be available on the night.
Tickets will sell VERY quickly, so please book early.
Thursday November 16th – 7pm
An Evening with Award-Winning Comedian Adam Kay
Please join us for an evening filled with tears and laughter as Adam Kay visits the Big Green Bookshop to talk about his incredible new bestselling book "This Is Going to Hurt".
Scribbled in secret after endless days, sleepless nights and missed weekends, the book provides a no-holds-barred account of his time as a junior doctor on the NHS front line. Hilarious, horrifying and heart-breaking by turns, these diaries are everything you wanted to know - and more than a few things you didn't - about life on and off the hospital ward. And yes, it may leave a scar.
Adam achieved success as frontman of Amateur Transplants, with 20 million hits (including the iconic London Underground Song), and since leaving the NHS, he has become a hugely successful stand up comedian and now is greatly in demand as a solo performer, with multiple sell-out Edinburgh Fringe and West End seasons as well as international tours. He is a previous winner of the London Cabaret Award.
Tickets for this event are just £3 (redeemable of the book).
Tickets will sell out VERY quickly, so please book early.
Chasing the Dram. A evening with Rachel McCormack
Whisky is Scotland's national drink and has been for over five hundred years, since then becoming a global phenomenon. It is a drink that is a profound and important part of Scottish life and culture but, unlike other countries and their national libations, it has hardly been used in food. Rachel McCormack is going to change that with this book.
Limiting whisky to a drink, she believes, is similar to the traditional Presbyterian attitude to sex; it should only be done with the lights off and in the missionary position. Rachel believes that there is an entire Karma Sutra of whisky use out there and she has put it in this book. Interspersing an engaging mix of anecdotes, history and information on distillers and recipes, this book will appeal to everyone from the cooking whisky connoisseur, to the novice whisky learner looking for some guidance on what to eat and cook.
Rachel travels the length and breadth of Scotland, discovering a myriad of unique and interesting people and facts about this remarkable drink, with interviews with the key people who create it around the country, as she visits the famous distilleries of her country, as well as the more home-grown variety.