Thursday October 5th – 7.00pm
Ruth and Martin's Album Club
Martin Fitzgerald in conversation with Geoff Lloyd
£3 (redeemable on the book)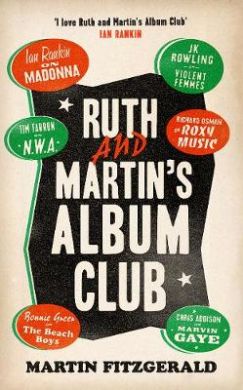 We're looking forward to this!
Martin Fitzgerald will be here chatting to radio presenter Geoff Lloyd about his brilliant new book Ruth & Martin's Album Club.
The concept behind the Ruth and Martin's Album Club is simple:
Make people listen to a classic album they've never heard before. Make them listen to it two more times. Get them to explain why they never bothered with it before. Then ask them to review it. What began as a simple whim quickly grew in popularity, and now Ruth and Martin's Album Club has featured some remarkable guests:
Ian Rankin on Madonna's Madonna.
Chris Addison on Marvin Gaye's What's Going On.
Brian Koppelman on The Smiths' Meat is Murder.
JK Rowling on the Violent Femmes' Violent Femmes.
Bonnie Greer on The Beach Boys' Pet Sounds.
Martin Carr on Paul McCartney's Ram.
Brian Bilston on Neil Young's Harvest.
Anita Rani on The Strokes' Is This It.
Richard Osman on Roxy Music's For Your Pleasure.
And many, many more.
Each entry features an introduction to each album by creator Martin Fitzgerald.
What follows are delightful, humorous and insightful contributions from each guest as they have an album forced upon them and - for better or worse - they discover some of the world's favourite music. Ruth and Martin's Album Club is a compilation of some of the blog's greatest hits as well as some exclusive material that has never appeared anywhere before. Throughout, we get an insight into why some people opt out of some music, and what happens when you force them to opt in.
After the chat, there'll be a Q & A, followed by a book signing.
Tickets for this are just £3, redeemable on the book.
We hope you can make it.
Thursday October 12th - 7.00pm - 9.00pm
Not The Booker Night. LIVE!
In 2009, the first Not the Booker Prize was launched by Sam Jordison in the Guardian. After a number of "controversial" decisions at the Man Booker Prize (and other literary prizes) this was a somewhat tongue-in-cheek attempt to introduce a slightly more democratic way of choosing a prize winning book.
The entry criteria are very similar to the Booker Prize.
Readers are asked to nominate a book fitting these criteria and a very long longlist is then announced. This longlist is then whittled down to six books, by people writing reviews for the books they want to win...the full rules can be found here, but we now have the Not the Booker Shortlist. Here it is.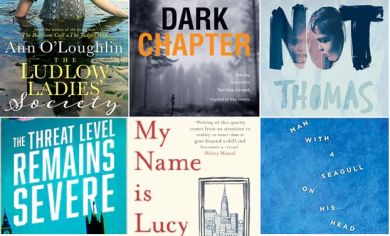 Not Thomas by Sara Gethin (Honno Press)
Dark Chapter by Winnie M Li (Legend Press)
The Ludlow Ladies' Society by Ann O'Loughlin (Black and White Publishing)
The Threat Level Remains Severe by Rowena Macdonald (Aardvark Bureau)
Man With a Seagull on His Head by Harriet Paige (Bluemoose Books)
Anything Is Possible by Elizabeth Strout (Viking)
And we are delighted that once again, the Not the Booker Prize is going live! Wembley Arena? Nah. The South Bank? pfft. Only the Big Green Bookshop could host such an event.
Each year, the award gets bigger and bigger, with over 1800 votes for the shortlist this year.
All six authors have been invited by to attend a panel reading and discussion and Sam Jordison will be here to chair the discussion. We can't guarantee all the authors will be able to make it), but we're pretty sure at least four will be in attendance at the shop on the night.
Not only will you get the chance to meet the authors, there will also be a Q and A and a signing.
These Not the Booker Events are really brilliant fun and this year's shortlist looks fantastic. I cannot wait to read each of them myself.
Tickets for this event are just £3 (HERE), redeemable on any of the shortlisted books on the night. Spaces are very limited and this event will sell out very quickly.
Really hope you can make it.
Tuesday October 24th – 7pm
An Evening with Harry Leslie Smith
This is an event we've been working on for some time and I am more than thrilled that we can now announce that the amazing Harry Leslie Smith will be visiting the Big Green Bookshop on Tuesday October 24th to discuss his new book "Don't Let My Past Be Your Future".
Harry's a survivor of the Great Depression, a second world war RAF veteran and an activist for the poor and for the preservation of social democracy.
In September 2014 Harry Leslie Smith electrified the Labour Party conference with this incredible speech about the NHS and since then he's written bestselling books, including the wonderful "Harry's Last Stand".
Don't Let My Past Be Your Future is his latest.
Now in his nineties, Harry wanders through the streets of his youth and wonders whether anything has actually changed. Britain is at its most dangerous juncture since Harry's youth - the NHS and social housing are in crisis, whilst Brexit and an unpopular government continue to divide the country - but there is hope. Just as Clement Attlee provided hope in 1945, Labour's triumphant comeback of June 2017 is a beacon of light in this season of discontent. Britain has overcome adversity before and will do so again - a new nation will be forged from the ashes of grave injustice. Moving and passionate, Don't Let My Past be Your Future interweaves memoir and polemic in a call to arms.
Above all, this book is a homage to the boundless grace and resilience of the human spirit.
There'll be a chance to ask Harry questions and he'll be very happy to sign copies of his book, which will be available on the night.
Tickets will sell VERY quickly, so please book early.
Friday October 27th- 7pm-9pm
Creative Workshop with Emma Mitchell
(ticket price includes workshop, book, sketchbook and refreshments)
Emma Mitchell is a popular designer-maker, craft teacher and naturalist. She lives in a tiny village on the edge of the Cambridgeshire Fens, where she runs nature-inspired craft workshops and creative winter retreats. Emma has been published and featured in the Guardian, Mollie Makes, Country Living and she's also the creator and co-editor of Mollie Makes Comic Relief Crafternoon magazine, which has channelled the UK's love of making into raising £100,000 so far for projects in the UK and Africa.
Emma's first book,

Making Winter

is a creative survival guide for the colder months. It is full of beautiful craft projects, delicious recipes and gentle encouragement to get out on nature walks, all of which will help to fend off dreary feelings and keep blues at bay in the depths of winter.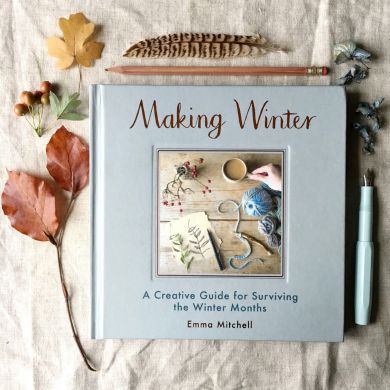 During this workshop Emma will talk about the ways in which making, craft and contact with nature can be as soothing as yoga and can help mental health.
She will then teach you how to draw plants and feathers she has gathered from the wood behind her cottage, along with stylised wreaths.
At the end of the workshop there will be homemade cake and drinks.
An A5 sketchbook and a copy of Making Winter is included in the price of this workshop.
There are just 12 spaces available, so please book early.
Thursday November 16th – 7pm
An Evening with Award-Winning Comedian Adam Kay
Please join us for an evening filled with tears and laughter as Adam Kay visits the Big Green Bookshop to talk about his incredible new bestselling book "This Is Going to Hurt".
Scribbled in secret after endless days, sleepless nights and missed weekends, the book provides a no-holds-barred account of his time as a junior doctor on the NHS front line. Hilarious, horrifying and heart-breaking by turns, these diaries are everything you wanted to know - and more than a few things you didn't - about life on and off the hospital ward. And yes, it may leave a scar.
Adam achieved success as frontman of Amateur Transplants, with 20 million hits (including the iconic London Underground Song), and since leaving the NHS, he has become a hugely successful stand up comedian and now is greatly in demand as a solo performer, with multiple sell-out Edinburgh Fringe and West End seasons as well as international tours. He is a previous winner of the London Cabaret Award.
Tickets for this event are just £3 (redeemable of the book).
Tickets will sell out VERY quickly, so please book early.
Chasing the Dram. A evening with Rachel McCormack
Whisky is Scotland's national drink and has been for over five hundred years, since then becoming a global phenomenon. It is a drink that is a profound and important part of Scottish life and culture but, unlike other countries and their national libations, it has hardly been used in food. Rachel McCormack is going to change that with this book.
Limiting whisky to a drink, she believes, is similar to the traditional Presbyterian attitude to sex; it should only be done with the lights off and in the missionary position. Rachel believes that there is an entire Karma Sutra of whisky use out there and she has put it in this book. Interspersing an engaging mix of anecdotes, history and information on distillers and recipes, this book will appeal to everyone from the cooking whisky connoisseur, to the novice whisky learner looking for some guidance on what to eat and cook.
Rachel travels the length and breadth of Scotland, discovering a myriad of unique and interesting people and facts about this remarkable drink, with interviews with the key people who create it around the country, as she visits the famous distilleries of her country, as well as the more home-grown variety.