Thursday September 22nd - 7.00pm
An Evening with Alison Moore
In 2012, Booker Prize shortlisted authors Alison Moore (The Lighthouse), and Tan Twan Eng (The Garden of Evening Mists) came to the Big Green Bookshop just 4 days before the Booker Prize was announced to read from and discuss their books. Those of you who were lucky enough to come to this will remember what an incredible evening it was.
And so it's with enormous pleasure that we welcome back Alison Moore to the bookshop to mark the publication of her phenomenal new novel Death and the Seaside.
"With an abandoned degree behind her and a thirtieth birthday approaching, amateur writer Bonnie Falls moves out of her parents' home into a nearby flat. Her landlady, Sylvia Slythe, takes an interest in Bonnie, encouraging her to finish one of her stories, in which a young woman moves to the seaside, where she comes under strange influences. As summer approaches, Sylvia suggests to Bonnie that, as neither of them has anyone else to go on holiday with, they should go away together - to the seaside, perhaps".
It really is a stunning book, and as with Alison's previous books, the pace and control of the story is something very special. I can't recommend it highly enough.
Tickets for this event are just £3 (HERE),

redeemable on any of Alison's books on the night

.
As a special deal (because our Book Group has chosen this for October's meeting), if you buy a copy of Death at the Seaside before the event, you can get in for FREE! (just let us know you want to come and we'll put your name down on the list).
This is likely to be a VERY popular event, so please book EARLY.
Hope you can make it.
--------------------------------------------------------------------------------------------
Thursday September 29th – 7.00pm
Jayne Joso joins us for a Kimono Book Party!
Hurray! We're thrilled to welcome one of our favourite authors, Jayne Joso back to the Big Green Bookshop, to celebrate the publication of her new novel "My Falling Down House".
Having lost his job and his home, Takeo Tanaka, a young Japanese man, takes refuge in a dilapidated wood and paper house. He sets himself projects in an attempt to hold on to his sanity and as recompense for trespassing and dwelling in a house for which he makes no payment. But with only a cat and a cello for company, his ability to distinguish between real and imagined events is soon deeply challenged.
His fears and failing health keep him inside the house through four testing seasons, and he is driven to the edge of insanity as he pushes his creative abilities to keep himself occupied and retain his self-respect.
When the shapeshifter (yokai) arrives, and begins to menace him, he is again made to doubt his sanity, and then also his sight, and his hearing. Questioning his previous life brings him to a point of crisis and he renegotiates his feelings towards a crippling modern world and all that this demands. As the seasons move on, he finds himself more and more deeply drawn into a relationship with nature and simple ways of living.
Jayne received the Great Britain Sasakawa Foundation Award for her new novel, given to a work of fiction or non-fiction which helps to interpret modern Japan to the English-speaking world.
This is Jayne's third novel. Her first, "Soothing Music for Stray Cats" explores the lives of disaffected city dwellers, and was heralded as 'the debut of a distinctive voice in contemporary British Fiction' by social historian Joe Moran; with the Times Literary Supplement projecting that it 'may emerge as one of the great, eccentric London novels'.
Her second novel, "Perfect Architect", draws on Joso's interest in architectural and psychological space. Accompanied by illustrations by Japanese artist, Hiroki Godengi, Perfect Architect was given full-page discussion in the international magazine: ICON
To make things even more fun, it's going to be a Japanese themed evening.
Come in your kimono, as your inner ninja, your shapeshifting alter-ego, or just as you are!
Refreshments will be available.
------------------------------------------------------------------------------------
Saturday October 15th - 6.00pm - 8.00pm
Not The Booker Night
In 2009, the first

Not the Booker Prize

was launched by Sam Jordison in the Guardian. After a number of "controversial" decisions at the Man Booker Prize (and other literary prizes) this was a somewhat tongue-in-cheek attempt to introduce a slightly more democratic way of choosing a prize winning book.
The entry criteria are very similar to the Booker Prize.
Readers are asked to nominate a book fitting these criteria and a very long longlist is then announced. This longlist is then whittled down to six books, by people writing reviews for the books they want to win...the full rules can be found here , but we now have the Not the Booker Shortlist. Here it is.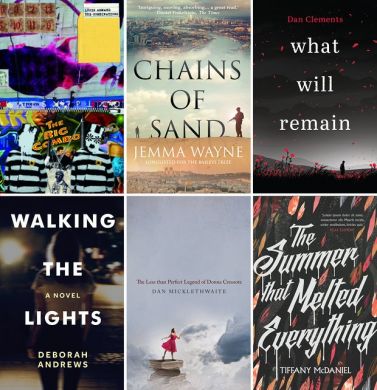 The Combinations by Louis Armand
The Less Than Perfect Legend of Donna Creosote by Dan Micklethwaite
Walking the Lights by Deborah Andrews
The Summer That Melted Everything by Tiffany McDaniel
Chains of Sand by Jemma Wayne
What Will Remain by Dan Clements
And we are delighted that once again, the Not the Booker Prize is going live! Wembley Arena? Nah. The South Bank? pfft. Only the Big Green Bookshop could host such an event.
Each year, the award gets bigger and bigger, with over 1500 votes for the shortlist this year.
All six authors have been invited by to attend a panel reading and discussion and Sam Jordison will be here to chair the discussion. We can't guarantee all the authors will be able to make it (two are based in the states, so we're working on hooking up Skype, so they can be involved too), but we're pretty sure four will be in attendance at the shop on the night.
Not only will you get the chance to meet the authors, there will also be a Q and A and a signing.
These Not the Booker Events are really brillaint fun and this year's shortlist looks fantastic. I cannot wait to read each of them myself.
Tickets for this event are just £3 (HERE),

redeemable on any of the shortlisted books on the night

. Spaces are very limited and this event will sell out very quickly.
Really hope you can make it.
--------------------------------------------------------------------------------------------
Thursday November 3rd – 7.00pm-8.30pm
The Handsworth Times by Sharon Duggal
We're delighted to be hosting an event marking publication of Sharon Duggal's The Handsworth Times, a powerful new novel set during the Birmingham riots.
It's 1981. Factories are closing, unemployment is high, the NF are marching and the neglected inner cities are ablaze as riots breakout across Thatcher's' fractured Britain.
Mukesh Agarwal sits alone in the Black Eagle pub, unaware that a riot is brewing or that Billy, his youngest son, is still out on his bike ...A mile away, at home in Church Street, Anila, one of the three Agarwal girls, is reading Smash Hits and listening to Radio One as she sprawls across the bottom bunk, oblivious to the monumental tragedy that is about to hit her family.
But as the Agarwals face their own nightmares, family, pop music, protest, unexpected friendships and a community that refuses to disappear all contribute to easing their personal pain and that of Handsworth itself.
After the reading, discussion and q+a, Sharon will be very happy to sign copies of the book, which is published by the good people at Bluemoose Publishing and costs just £8.99.
It promises to be an absolutely cracking evening.
It's a FREE event, but we'd be grateful if you could contact us (enquiries@biggreenbookshop or phone 020 8881 6767) if you'd like to come along.