Jan Ellis, Simon Booker, Lisa Cutts & William Shaw
The second of our series of crime panel events, bringing you some of the very best and most exciting crime & mystery writers out there.
Tonight we have four brilliant authors for you.
Jan Ellis – author of The Bookshop Detective.
When a ghost ship is spotted on the horizon one spring evening, bookseller Eleanor decides to investigate the myths and legends of Combemouth, the seaside town where she runs The Reading Room. As Eleanor digs deeper into the town's history, she becomes intrigued by a Victorian crime report and is determined to find out what happened to a boy at the centre of the court case. As she begins to uncover the truth - aided by the vicar but somewhat stalled by the local librarian - she has a challenge on her own horizon…
For four long years, journalist Morgan Vine has campaigned for the release of her childhood sweetheart Danny Kilcannon - convicted, on dubious evidence, of murdering his 14 year-old stepdaughter. When a key witness recants, Danny is released from prison. With nowhere else to go, he relies on single mum Morgan and her teenage daughter, Lissa.
But then Lissa goes missing. With her own child now at risk, Morgan must re-think all she knows about her old flame - 'the one that got away'. As the media storm around the mysterious disappearance intensifies and shocking revelations emerge, she is forced to confront the ultimate question: who can we trust...?
The death of a local sex offender places the police officers at East Rise incident room under immense pressure - they must treat this case like any other murder, but they know what Albie Woodville did and can feel little sympathy. Except, as the investigation progresses, it becomes clear this isn't just a one-off killing - someone is out for revenge...
Sergeant William South has always avoided investigating murder. A passionate birdwatcher and quiet man, he has few relationships and prefers it that way.
But when his only friend is found brutally beaten, South's detachment is tested. Not only is he bereft - it seems that there's a connection between the suspect and himself. For South has a secret.
He knows the kind of rage that killed his friend. He knows the kind of man who could do it. He knows, because Sergeant William South himself is a murderer.
Moving from the storm-lashed, bird-wheeling skies of the Kent Coast to the wordless war of the Troubles, The Birdwatcher is a crime novel of suspense, intelligence and powerful humanity about fathers and sons, grief and guilt and facing the darkness within.
There'll be a discussion and readings plus lots more besides. The authors books will be available to purchase on the night and they'll be very happy to sign copies for you.
It should be lots of fun!
This is a free event, but please contact us if you'd like to attend, so we can reserve a place for you.
Wednesday August 9th – 7.00pm- 8.30pm
Emily Morris discusses "My Shitty Twenties".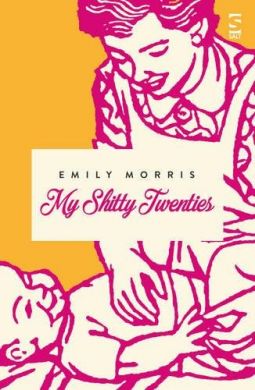 We are delighted to be welcoming Emily to the bookshop to read from and discuss her, funny, frank and honest memoir "My Shitty Twenties".
The baby's father's parting shot was "Enjoy your impending shitty, snotty, vomity twenties."
When Emily Morris was 22 and half way through university, she found out she was pregnant. It felt like an alien invasion but her instincts took over and, despite being totally unmaternal, she found herself going ahead with the pregnancy. My Shitty Twenties is based on an award-winning blog about being a single mum. Emily Morris started writing when her son was two and she needed to try to find something funny in a crap, banal day.
Six years later, this is her story.
Whether you're a parent or not, this wonderful book is well worth a read. It's a breath of fresh air to the traditional parenting books and offers a real insight about what it's like to be a single parent and the challenges faced. It's also very funny.
After the talk, there'll be a chance to ask Emily questions and obviously Emily will be happy to sign copies of the book, which is published by Salt and costs just £8.99.
We really hope you can make it.
Monday September 4th – 7.00pm-8.30pm
Jess Phillips MP in conversation with Alex Clark
Please join us for an evening in the company of Jess Phillips MP, author of "Everywoman: One Woman's Truth About Speaking the Truth". Jess will be in conversation with literary journalist Alex Clark.
Jess was elected as the Labour MP for Birmingham Yardley at the 2015 election.
Before being elected she was a manager at a charity supporting victims of domestic and sexual violence.
Her book Everywoman was published earlier this year and has been described as

"Joyfully candid and very funny" (Guardian) and "As fresh as mountain air amid the Westminster tumbleweed." (Metro).
If you're thinking, 'Jess, who?' then I'm glad that there was something about 'Everywoman' and 'truth' that caught your eye.
Or you might already know me as that gobby MP who has a tendency to shout about the stuff I care about. Because I'm a woman with a cause, I have been called a feminazi witch, a murderer and threatened with rape. The internet attracts a classy crowd.
So, speaking the truth isn't always easy but I believe it's worth it. And I want you to believe it too. The truth can be empowering, the truth can lead to greater equality, and the world would be incredibly boring if we let all of those people who allegedly know everything, say everything.
By demanding to be heard, by dealing with our imposter syndrome, by being cheerleaders, doers not sayers, creating our own networks and by daring to believe that we can make a difference, we can. We're women and we're kick-ass. And that's the truth.
Alex Clark is a literary journalist and editor who has written for The Guardian, The Observer and the Times Literary Supplement. She also hosts the Vintage Podcast about books.
There will be a chance for you to ask Jess questions and afterwards she'll be very happy to sign copies of her book.
Tickets are £5 for attendance only or £15.00 if you'd like a copy of the book (which you can pick up from the shop beforehand or collect on the night).
This is going to be a very popular event so if you want to come along we urge you to buy your tickets early.
If you can't make the event but would like Jess to sign a copy of the book for us to send to you, you can do so HERE.