Shop by Category
Information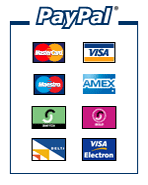 Featured Product
Currency
Events & Diary
Thursday, December 7th 7.30 - 10.30
An evening of readings of classic and contemporary spine-chilling stories accompanied by unnerving live sound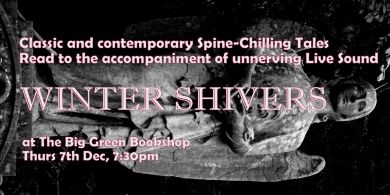 The performers:

CHRIS BROSNAHAN is a thriller writer, occasional comedian and film-maker. He runs the bookshop's writing group and loves writing and reading spooky stories. http://www.chrisbrosnahan.com/

LUCY BRADY is a writer specialising in speculative horror that explores ideas of technology, fringe psychology and the uncaring cosmos that surrounds us. Her stories have appeared in anthologies including 'Hexus Journal Vol. II: Secret Agreements' and 'Dreams from the Witch House: Female Voices in Lovecraftian Horror'. She is also the contributing editor of the zine project Praeterlimina, a journal of demonology and the occult. http://www.lucy-brady-writer.co.uk/

CLIFF CHAPMAN is an actor and voiceover artist from Leicester, via the Isle of Man, and for the last eight years, London. He has appeared in many dramas for Games Workshop's The Black Library audio range, including Heart of the Pharos, Daedalus, Scions of Elysia, Agent of the Throne and the forthcoming Corsair: Face of the Void. Other credits include Big Finish (Pathfinder Legends: Escape From Old Korvosa), animated Sherlock Holmes for copyrightuser.org, Dulux (not the dog) and the audio revival of Robin of Sherwood. He lives in Wood Green. As a result of a medical trial, he has a strange fixation with macaroni cheese. www.cliff-chapman.com

ELECTRIC ELIZABETH makes sounds with a bucket, contact microphone and delay pedal. It might sound a bit like being on a haunted boat. https://soundcloud.com/electricelizabeth

SAM ENTHOVEN used to write thrilling books for teenagers; now he's a musician and sound artist. He plays found sounds, analogue synths and a unique instrument from the dawn of electronic music – the theremin. https://soundcloud.com/thereminmenace
BYOB. Entry £5, book early to be sure of admittance.
Chasing the Dram. A evening with Rachel McCormack
Whisky is Scotland's national drink and has been for over five hundred years, since then becoming a global phenomenon. It is a drink that is a profound and important part of Scottish life and culture but, unlike other countries and their national libations, it has hardly been used in food. Rachel McCormack is going to change that with this book.
Limiting whisky to a drink, she believes, is similar to the traditional Presbyterian attitude to sex; it should only be done with the lights off and in the missionary position. Rachel believes that there is an entire Karma Sutra of whisky use out there and she has put it in this book. Interspersing an engaging mix of anecdotes, history and information on distillers and recipes, this book will appeal to everyone from the cooking whisky connoisseur, to the novice whisky learner looking for some guidance on what to eat and cook.
Rachel travels the length and breadth of Scotland, discovering a myriad of unique and interesting people and facts about this remarkable drink, with interviews with the key people who create it around the country, as she visits the famous distilleries of her country, as well as the more home-grown variety.
Shopping Basket
Welcome Guest
Mailing List
Subscribe to our mailing list below:
Popular Products
Sale Items