Saturday April 25th 5pm-8pm
The Great North London Literary Talent Hunt
Childrens Fiction Special
We are extremely happy to announce that we are teaming up with Davinia Andrew-Lynch to continue our hunt for authors of the future.
Davinia will be with us on the 25th of April, and there are fifteen10 minute chances to pitch a project to her.
Davinia is the founder of Andlyn agency, and comes to children's publishing with a wealth of experience in editing childrens fiction and a backround in film and television. This combination should be an exciting new approach to Author/Agent/Publisher relations.
On this ocassion Davinia is looking for middle grade, young adult and cross over fiction submissions. You will be told where to send your submission after you have booked a session. Sessions cost just £10 and are available through this website, or in person at the shop. Your submission should include a covering letter, a one page synopsis and up to the first four chapters of your book.
We can't guarantee that Davinia will sign you up on the spot, but she will be able to give you constructive feedback and advice personally tailored to your work.
For more information on Davinia & Andlyn visit the website
here
To book a ten minute session with Davinia click
here
Friday May 1st 7.00pm
Zoe Williams in conversation.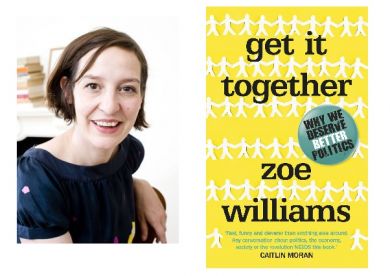 With the general election fast approaching, we are delighted that celebrated Guardian columnist Zoe Williams joins us at The Big Green Bookshop to discuss her latest book Get It Together: Why We Deserve Better Politics. The book is a rousing call to arms for us all to play our part in creating a more equal society.
In the book Zoe addresses many key questions including:
Has the NHS had its day?
Who broke the bank?
Has an immigrant taken your job?
Why can so many people not afford a house?
Have we left it too late to avoid the environmental apocalypse?
Who got us into this mess?


She brings together all the arguments that occupy the current political landscape and offers a road map for a better future in an accessible and truly entertaining way.
Zoe will be in conversation with Literary Death Match's very own Suzanne Azzopardi.
There'll be a chance to ask Zoe questions and she's very happy to sign copies of her book for you.
Tickets are now available at just £3, (HERE) and ticket holders will be able to get the book at the discounted price of just £11.99 (RRP £14.99).