Friday November 24th. 7-9pm
Creative Workshop with Emma Mitchell
(ticket price includes workshop, book, sketchbook and refreshments)
Due to popular demand, Emma has kindly agreed to hold a second creative workshop here.
Emma Mitchell is a popular designer-maker, craft teacher and naturalist. She lives in a tiny village on the edge of the Cambridgeshire Fens, where she runs nature-inspired craft workshops and creative winter retreats. Emma has been published and featured in the Guardian, Mollie Makes, Country Living and she's also the creator and co-editor of Mollie Makes Comic Relief Crafternoon magazine, which has channelled the UK's love of making into raising £100,000 so far for projects in the UK and Africa.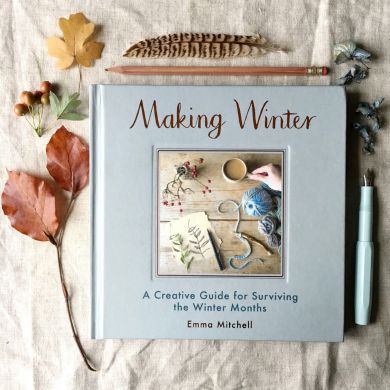 Emma's first book, Making Winter is a creative survival guide for the colder months. It is full of beautiful craft projects, delicious recipes and gentle encouragement to get out on nature walks, all of which will help to fend off dreary feelings and keep blues at bay in the depths of winter.
During this workshop Emma will talk about the ways in which making, craft and contact with nature can be as soothing as yoga and can help mental health.
She will then teach you how to draw plants and feathers she has gathered from the wood behind her cottage, along with stylised wreaths.
At the end of the workshop there will be homemade cake and drinks.
An A5 sketchbook and a copy of Making Winter is included in the price of this workshop.
There are just 12 spaces available, so please book early.
Tuesday November 28th – 7pm-9pm
The Infinite Monkey Cage – How to Build a Universe.
An Evening with Robin Ince
We're absolutely delighted that comedian, actor and writer Robin Ince will be at The Big Green Bookshop on Tuesday November 28th explaining how to build a universe, to mark publication of The Infinite Monkey Cage, he has co-written with Professor Brian Cox.
The Infinite Monkey Cage, the legendary BBC Radio 4 programme, brings you this irreverent celebration of scientific marvels. Join us on a hectic leap through the grand and bizarre ideas conjured up by human imagination, from dark matter to consciousness via neutrinos and earthworms. Professor Brian Cox and Robin Ince muse on multifaceted subjects involved in building a universe, with pearls of wisdom from leading scientists and comedians peppered throughout.
Covering billions of concepts and conundrums, they tackle everything from the Big Bang to parallel universes, fierce creatures to extraterrestrial life, brain science to artificial intelligence. How to Build a Universe is an illuminating and inspirational celebration of science - sometimes silly, sometimes astounding and very occasionally facetious.
Tickets are just £5 and it promises to be extremely popular, so please book early.
Chasing the Dram. A evening with Rachel McCormack
Whisky is Scotland's national drink and has been for over five hundred years, since then becoming a global phenomenon. It is a drink that is a profound and important part of Scottish life and culture but, unlike other countries and their national libations, it has hardly been used in food. Rachel McCormack is going to change that with this book.
Limiting whisky to a drink, she believes, is similar to the traditional Presbyterian attitude to sex; it should only be done with the lights off and in the missionary position. Rachel believes that there is an entire Karma Sutra of whisky use out there and she has put it in this book. Interspersing an engaging mix of anecdotes, history and information on distillers and recipes, this book will appeal to everyone from the cooking whisky connoisseur, to the novice whisky learner looking for some guidance on what to eat and cook.
Rachel travels the length and breadth of Scotland, discovering a myriad of unique and interesting people and facts about this remarkable drink, with interviews with the key people who create it around the country, as she visits the famous distilleries of her country, as well as the more home-grown variety.