Events & Diary
Tuesday October 28th - 7.00pm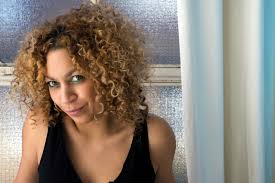 We are totally thrilled that poet, writer and performer Salena Godden is making her second appearnace at Big Green Bookshop.
'The doyenne of the spoken word scene' (Ian McMillan)
'The Mae West madam of the salon' (The Sunday Times)
'Everything the Daily Mail is terrified of' (Kerrang! Magazine).
We will be celebrating not one, but two books by Salena that have been published in the last couple of months
Firstly, the incredibly powerful and intimate collection of the best of her poetry from the last 20 years,"Fishing in the Aftermath".
And also a very special memoir, Springfield Road.
"As long ago as 2006, it was suggested to Salena that she should write a memoir. The details of her life – a mixed-race child brought up in England in the seventies and eighties, whose Irish jazz-musician father leaves home when she is three and kills himself when she is nine, her Jamaican mother's second marriage to a violent stepfather – had all the potential for the making of a 'misery memoir', the kind that were riding high in the bestseller lists at the time.

But Salena Godden is incapable of that kind of misery. Joy and humour and love and tenderness just kept breaking through, and what resulted was Springfield Road – one of the most life-enhancing memoirs you will ever read. Make no mistake, Salena does not shy away from the painful and the difficult episodes of her life, but she just can't help herself also celebrating the ridiculous, the beautiful, the thousands of tiny unremembered acts of kindness and of love that are at once both personal and universal."
Salena will be performing two sets on the night and if you haven't had the chance to see her close up and intimate, you are in for a treat.
This is going to be a very special event. It's FREE, and refreshments will be available.
To guarantee entry you MUST contact the bookshop, so we can add you to the guestlist.
Thursday November 6th - 6.30pm-8.00pm
What? Do you need any more persuading to come to the Big Green Bookshop?
David Quantick will be here, isn't that enough for you?
Writer, critic, journalist and all round legend, David will be here to read from, discuss and answer questions about his new book "How To Write Everything". There are few people more qualified to have penned this.
David really has written everything. As a television writer, he has written for The Thick Of It, The Day Today, Brass Eye, TV Burp and many other shows. He is also an award-winning writer on HBO's Veep and wrote the critically-praised Sky Arts Playhouse, Snodgrass. As a radio writer, he created Radio 4's One and Radio 2's The Blagger's Guide. His novel Sparks (described as 'excellent'; by Neil Gaiman) is a brilliant sci-fi comedy and his graphic series Louis Wain (created with Savage Pencil) was published in Alan Moore's Dodgem Logic.
As well as a series of music books and the official biography of Eddie Izzard, David wrote the Sunday Times best-seller Grumpy Old Men and has written for over 50 magazines and newspapers, from The Guardian and The Daily Telegraph to NME and Q. With Jane Bussmann, he created the world's first internet sitcom, The Junkies, and he is also the writer of several short films, including the highly-acclaimed Lot 13.
Tickets are just a fiver and David will be happy to sign copies of the book, which will be available at the Big Green Bookshop on the night at just £9.99.
Thursday November 13th at 7.00pm-8.30pm

An Illustrated Reading with Matilda Tristram
Friday November 14th from 7.00pm

Story Cabaret - Storytime for Adults

Join us for an evening of storytelling for adults.
Enjoy brilliant stories told, sung, read and performed by inspiring storytellers in great company. AND there could be an Open-Mic spot.
Tickets only £3.00 click here to buy

Don't forget to bring your own refreshments
Sunday November 16th from 4.30pm

Galley Beggars Press - Paul Ewen, Jonathan Gibbs, Lee Rourke & more tbc.
Monday November 17th at 7.00pm
Sali Hughes and
India
Knight in Conversation.
Sold Out+++Sold Out+++Sold Out
What a wonderful evening we've got lined up for you. Sali and
India
will be here bringing their incisive and witty approach to modern life, tackling beauty and feminism head on, while celebrating the best bits of being a woman.
Sali Hughes is a leading broadcaster and journalist with over 15 years experience. She writes a regular beauty column for The Guardian and is a regular contributor on BBC Radio 5Live, Radio 4's Woman's Hour and Radio2
Her new book 'Pretty Honest' has just been published.
Sali draws on over 20 years of wisdom, advice and expertise to show real women how to make the most of makeup's physically and emotionally transformative powers. Covering everything from teenage skin to mature beauty, botox to bridal make-up, sickness to good health, it's a work that is part instruction manual, part love letter to makeup - in a writing style that combines beauty editor, feminist and painfully funny best friend.
India Knight is an author and Sunday Times journalist. She's the author of My Life on a Plate, Don't You Want Me?,The Shops, and Neris and India's Idiot-Proof Diet, as well as the accompanying bestselling cookbook Neris and India's Idiot-Proof Diet Cookbook and last year her hilarious novel Mutton was published.
Her new book, In Your Prime: Older, Wiser Happier has just been published.
Humane, witty, wise and full of practical advice: India Knight's guide to ageing is the book every woman has been waiting for. 'Our mothers' fifty is not our fifty. We have no map, no blueprint, no nothing.
Part guide, part memoir, part manual, in In Your Prime India seeks to provide proper, weighty answers to the questions women are asking themselves now. Covering a wide range of subjects from clothes and cosmetics, being a parent to older children, having older parents and what that entails, and of course, the menopause, In Your Prime is the definitive, much-needed guide to approaching middle age with confidence and panache.
These books will be available to ticket holders at a discounted price.
Please book early, as tickets will be very popular.
Shopping Basket
Welcome Guest
Mailing List
Subscribe to our mailing list below:
Popular Products
Sale Items