Thursday April 6th – 6.30pm onwards
Launch Party for Scarlett Thomas's Dragon's Green
You have no idea how excited we are about this!
Please do join us for the official launch of bestselling author Scarlett Thomas's magical new children's book Dragon's Green.
Scarlett is the bestselling author of nine novels, most famously The End of Mr Y and PopCo. This is her first children's novel.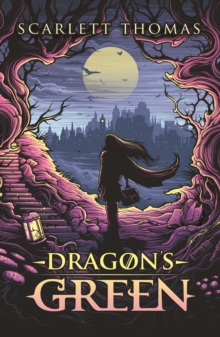 We've been lucky enough to get an advanced copy of this and we have to tell you it's absolutely incredible.
'Some people think opening a book is a simple thing. It's not. Most people don't realise that you can get truly lost in a book.
You can. Especially you.' AFTER THE WORLDQUAKE, MAGIC IS SEEPING INTO OUR WORLD Effie Truelove is a new pupil at the Tusitala School for the Gifted, Troubled and Strange, with its twisted grey spires and an English teacher so frightening she gives the class nightmares. When her beloved grandfather is brutally attacked, Effie promises to look after his magical books.
But then shady book-collector Leonard Levar gets his hands on them and Effie has to embark on the most dangerous adventure of her life ...Effie must travel to the mysterious Otherworld, unlock the hidden meaning of an old book called Dragon's Green, and brave the terrifying Diberi, a secret organisation with plans that could destroy the entire universe. But Effie can't face the Diberi alone. Can her new school-friends Maximilian, Wolf, Lexy and Raven combine their gifts and discover their true powers in time?
For this very special day, we'll be changing the name of the shop to The Dragon's

Green

Bookshop and at the launch itself there'll be all sorts of exciting surprises.
We hope you can make it for this very very special event.
Thursday May 4th – 7.00pm – 9.00pm
EUROVISION! A presentation by Chris West.
TICKETS £3 (redeemable on the book) – BUY TICKETS HERE.
This year's Eurovision Song Contest final will be held on Saturday May 13th, so to get you in the mood, we've invited Chris West, the author of "Eurovision!" to the shop to present a celebration/discussion of this phenomenal programme.
Do you think the world of the Eurovision Song Contest, with its crazy props, even crazier dancers and crazier still songs have nothing to do with serious European politics? Think again. The contest has been a mirror for cultural, social and political developments in Europe ever since its inauguration, when an audience in dinner jackets and ball-gowns politely applauded each song. It has been a voice of rebellion across the Iron Curtain, an inspiration for new European nations in the 1990s and 2000s, the voice of liberation for both sexual and regional minorities. It even once triggered a national revolution.
Eurovision charts both the history of Europe and the history of the Eurovision Song Contest over the last six decades, and shows how seamlessly they interlink – and what an amazing journey it has been.
The book, which is published at the end of April, will be available to purchase on the night and if you're still Making Your Mind Up whether to come along, during the presentation we will be able to relive some of the magical Eurovision moments over its sixty-year history.