Welcome to the Big Green Bookshop Online
Working Title Comedy Night with Shappi Khorsandi + support.

Yes, we are delighted to be bringing you some more laffs and giggles at the Bookshop as we welcome back the brilliant

Shappi Khorsandi.




Shappi will be previewing her new show which she'll be taking to Edinburgh later this year. And YOU have a chance to see it first RIGHT HERE!!
Shappi's career has taken her to all corners of the globe, she's appeared on countless TV & Radio shows including; Mock The Week, 8 Out Of 10 Cats, Have I Got News For You, QI, Just a Minute & many other flagship radio 4 programmes.
We're absolutely thrilled that she'll be back in Wood Green to entertain the good folk of North London.
Support acts TBC.

Your MC for the evening will be the magical Chris Brosnahan.

In a style that is reassuringly familiar, tickets are a fiver (
HERE

) and you can bring your own refreshments..
Tickets for this will sell VERY quickly, so please book early to avoid bitter disappointment.
Tuesday May 24th – 7.00pm-9.00pm
A Celebration of National Anthems
With Alex Marshall and Rhodri Marsden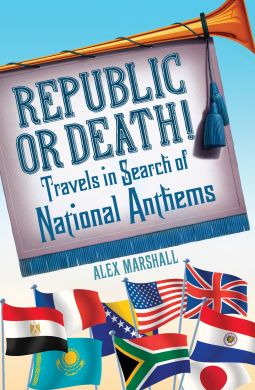 There are a couple of hundred songs that are sung by millions across the world each day, that school children know by heart and sports fans belt out perfectly even after eight beers. And they aren't pop songs – they are national anthems.
In his brilliant new book Republic or Death,

Alex Marshall

brings the incredible stories of the world's national anthems to life. Taking in Europe, the Middle East, Asia, Africa and the Americas North and South, he embarks on an adventure that includes cycling the route along which French revolutionaries marched as they first sang La Marseillaise; entering a competition for the best singer of the Star-Spangled Banner; and attempting to bribe his way to an audience with the king of Nepal in order to uncover the story behind the only national anthem written on a Casio keyboard.
The book will be available at the shop for £8.99 and Alex will doubtlessly be happy to sign copies for you.
Alex will be joined by the multitalented and charming

Rhodri Marsden

.
Rhodri is currently in no less than three bands.

Scritti Politti

,

Prescott

and everybody's favourite TV theme tribute band

Dream Themes

. In 2014 he talked (and played) at The Boring Conference, highlighting the similarities between 198 of the World's national anthems. It went down a storm. And for one night only Rhodri will be recreating this momentous event right here at the Big Green Bookshop.
This is a FREE event, but please let us know if you plan on coming along, as I have a feeling it will be VERY popular.
Don't miss it!
----------------------------------------------------------------------------------------------------
Subscribe to our Big Green Bookshop Book Club

We try our best to present to you the best books out there. What we stock and recommend defines the bookshop. And whilst we know everyone's tastes are different, we hope we can find something that'll you'll really enjoy.
So why not subscribe to our Monthly Book Club.
Based on information provided by you, we'll deliver a new novel at the beginning of each month to you or to the person of your choice. The book will be gift wrapped and will also include a personal message from us and, maybe more.
Consider us your personal literary shopper and let us help you discover some of the best new writing out there.
Or you could subscribe to our Children's Book Club
Our Children's Book Club works in exactly the same way as our adult one and we've enlisted some expert help to make sure we provide the most appropriate books for children of all ages. We've joined up with "
Books for Keeps
" to help us choose book for our kid's book package. Books for Keeps are the
UK
's leading independent children's book magazine, reviewing over 1,000 children's books each year. This is what they wrote in their first issue back in 1980.

'We have assumed that you, our readership, are busy people committed to encouraging the reading habit amongst your children, not only in school but at home or on holiday too. Because there is so much available and so much new material being published, it is impossible to keep abreast of everything all the time. The thinking behind Books for Keeps is based therefore on the belief that book ideas, book opinion, book information and book news should be easy to digest, stimulating to read, and simple to select.'
---------------------------------------------------------------------------------------------------------------------------------------
The Book Club is a perfect gift for any book lovers out there – no matter what age.
There are 3 sizes of package, three months, six months and twelve months. Prices start at just £25 for children and £30 for adults.
ADULTS
Three Month Book Club Subscription - £30
BUY HERE
Twelve Month Subscription - £90 BUY HERE
CHILDREN
Three Month Book Club Subscription - £25 BUY HERE
Twelve Month Subscription - £75 BUY HERE
Once you've bought one, we'll send you a very simple questionnaire to fill in, which will help us to pick the right book just for you. Books will be posted out on the 1st of each month, unless otherwise requested.
-------------------------------------------------------------------------------------------------------
Email Vouchers
Available at the Big Green Bookshop
A Big Green Bookshop voucher.
Just get in touch with us, let us know how much you'd like to give and we can send that special someone an Email Voucher. The lucky recipient will get an email from us telling them that you've bought them a voucher to spend at the Big Green Bookshop. They can then choose books and we'll get them and post them (FREE P+P in the UK), whenever they choose to redeem it.
What a treat, eh?
Telephone; 020 8881 6767
Email; enquiries@biggreenbookshop.com
------------------------------------------------------------------------------------------------------
Welcome to The Big Green Bookshop, the award winning bookshop based in Wood Green, North London. We're situated just off the High Road, a couple of minutes walk from Turnpike Lane tube station, on Brampton Park Road (an oasis of calm in the metropolitan madness).

We stock a great and varied range of books, which we individually hand pick for our customers, as well as stocking a wide selection of cards, bookmarks and other essentials. If you can't decide what to get (the choice is sometimes too much), we sell our own vouchers too.

We have book groups for adults and children, which is open to everyone, and we also hold a staggering number of author signings and events for all ages. From Maisy Mouse to burlesque dancers, music legends and literary superstars, you can keep up with all the shenanigans on the website, or by signing up for our newsletter, just over there ------>

If we don't have the book you're looking for we can usually get it in within 48 hours, and you can now order online too, and we offer free delivery in the UK for orders over £5. You'll also find special offers, signed books and all manner of delights here, so it's definitely worth checking back every so often.

If the book you want is no longer available, we have an Out of Print Booksearch Service, which is totally free. Details can be found here.

There's so much more to tell you, but we'll let you have a look around for yourself. Have fun and come and say hello next time you're in the area. There's usually a pot of coffee on the go, and we have a very comfy sofa.
Latest Products
Shopping Basket
Welcome Guest
Mailing List
Subscribe to our mailing list below:
Popular Products
Sale Items