Welcome to the Big Green Bookshop Online
Thursday April 6th – 6.30pm onwards
Launch Party for Scarlett Thomas's Dragon's Green
You have no idea how excited we are about this!
Please do join us for the official launch of bestselling author Scarlett Thomas's magical new children's book Dragon's Green.
Scarlett is the bestselling author of nine novels, most famously The End of Mr Y and PopCo. This is her first children's novel.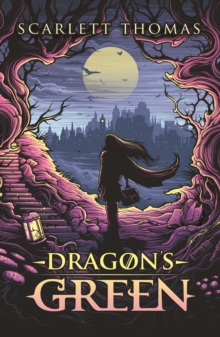 We've been lucky enough to get an advanced copy of this and we have to tell you it's absolutely incredible.
'Some people think opening a book is a simple thing. It's not. Most people don't realise that you can get truly lost in a book.
You can. Especially you.' AFTER THE WORLDQUAKE, MAGIC IS SEEPING INTO OUR WORLD Effie Truelove is a new pupil at the Tusitala School for the Gifted, Troubled and Strange, with its twisted grey spires and an English teacher so frightening she gives the class nightmares. When her beloved grandfather is brutally attacked, Effie promises to look after his magical books.
But then shady book-collector Leonard Levar gets his hands on them and Effie has to embark on the most dangerous adventure of her life ...Effie must travel to the mysterious Otherworld, unlock the hidden meaning of an old book called Dragon's Green, and brave the terrifying Diberi, a secret organisation with plans that could destroy the entire universe. But Effie can't face the Diberi alone. Can her new school-friends Maximilian, Wolf, Lexy and Raven combine their gifts and discover their true powers in time?
For this very special day, we'll be changing the name of the shop to The Dragon's

Green

Bookshop and at the launch itself there'll be all sorts of exciting surprises.
We hope you can make it for this very very special event.
If you can't make the launch, but would like a copy signed and dedicated by Scarlett, you can purchase a copy HERE. Free P+P in the UK
--------------------------------------------------------------------------------------------
Well, it was inevitable really, wasn't it? The pioneering Big Green Bookshop are pushing boundaries again.
I think it's fair to say that we are the first bookshop in the UK to have our own tote bags.
LOOK AT THEM! Aren't they gorgeous?
The bags have a brilliant exclusive illustration by local comic book artist Zoom Rockman (he does stuff for The Beano!).
The picture is a mock up. The final design will have our address and a few more bits and bobs on them.
These special bags, produced by Balcony Shirts, are now available for just a fiver. If you want one posted to you, we'll do this for an extra quid.
The money we make on these bags will be put into Big Green Education, our not for profit wing of the business, which supports local schools by promoting the love of reading.
You can order one or more of these by following the following links.
I want a bag and I'll pick it up from the shop – £5, HERE
I want a bag & I want you to post it to me - £6, HERE
You'll be the talk of the town...
Prices are for UK customers only. Overseas customers please contact us for a quote.
----------------------------------------------------------------------------------------------------
With your help we're going to write a book about the bookshop.
It will include the Piers Morgan story...... not for fans of Piers Morgan.... if there are any...
----------------------------------------------------------------------------------------------------
Subscribe to our Big Green Bookshop Book Club

We try our best to present to you the best books out there. What we stock and recommend defines the bookshop. And whilst we know everyone's tastes are different, we hope we can find something that'll you'll really enjoy.
So why not subscribe to our Monthly Book Club.
Based on information provided by you, we'll deliver a new novel at the beginning of each month to you or to the person of your choice. The book will be gift wrapped and will also include a personal message from us and, maybe more.
Consider us your personal literary shopper and let us help you discover some of the best new writing out there.
Or you could subscribe to our Children's Book Club
Our Children's Book Club works in exactly the same way as our adult one and we've enlisted some expert help to make sure we provide the most appropriate books for children of all ages. We've joined up with "
Books for Keeps
" to help us choose book for our kid's book package. Books for Keeps are the
UK
's leading independent children's book magazine, reviewing over 1,000 children's books each year. This is what they wrote in their first issue back in 1980.

'We have assumed that you, our readership, are busy people committed to encouraging the reading habit amongst your children, not only in school but at home or on holiday too. Because there is so much available and so much new material being published, it is impossible to keep abreast of everything all the time. The thinking behind Books for Keeps is based therefore on the belief that book ideas, book opinion, book information and book news should be easy to digest, stimulating to read, and simple to select.'
----------------------------------------------------------------------------------------------------------
The Book Club is a perfect gift for any book lovers out there – no matter what age.
There are 3 sizes of package, three months, six months and twelve months. Prices start at just £25 for children and £30 for adults.
ADULTS
Three Month Book Club Subscription - £30
BUY HERE
Twelve Month Subscription - £90 BUY HERE
CHILDREN
Three Month Book Club Subscription - £25 BUY HERE
Twelve Month Subscription - £75 BUY HERE
Once you've bought one, we'll send you a very simple questionnaire to fill in, which will help us to pick the right book just for you. Books will be posted out on the 1st of each month, unless otherwise requested.
-------------------------------------------------------------------------------------------------------
Email Vouchers
Available at the Big Green Bookshop
A Big Green Bookshop voucher.
Just get in touch with us, let us know how much you'd like to give and we can send that special someone an Email Voucher. The lucky recipient will get an email from us telling them that you've bought them a voucher to spend at the Big Green Bookshop. They can then choose books and we'll get them and post them (FREE P+P in the UK), whenever they choose to redeem it.
What a treat, eh?
Telephone; 020 8881 6767
Email; enquiries@biggreenbookshop.com
------------------------------------------------------------------------------------------------------
Welcome to The Big Green Bookshop, the award winning bookshop based in Wood Green, North London. We're situated just off the High Road, a couple of minutes walk from Turnpike Lane tube station, on Brampton Park Road (an oasis of calm in the metropolitan madness).

We stock a great and varied range of books, which we individually hand pick for our customers, as well as stocking a wide selection of cards, bookmarks and other essentials. If you can't decide what to get (the choice is sometimes too much), we sell our own vouchers too.

We have book groups for adults and children, which is open to everyone, and we also hold a staggering number of author signings and events for all ages. From Maisy Mouse to burlesque dancers, music legends and literary superstars, you can keep up with all the shenanigans on the website, or by signing up for our newsletter, just over there ------>

If we don't have the book you're looking for we can usually get it in within 48 hours, and you can now order online too, and we offer free delivery in the UK for orders over £5. You'll also find special offers, signed books and all manner of delights here, so it's definitely worth checking back every so often.

If the book you want is no longer available, we have an Out of Print Booksearch Service, which is totally free. Details can be found here.

There's so much more to tell you, but we'll let you have a look around for yourself. Have fun and come and say hello next time you're in the area.
Latest Products
Shopping Basket
Welcome Guest
Mailing List
Subscribe to our mailing list below:
Popular Products
Sale Items