Shop by Category
Information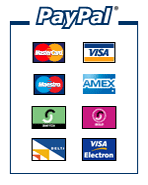 Featured Product
Currency
Welcome to the Big Green Bookshop Online
BAILEYS WOMEN'S PRIZE FOR FICTION BOOK CHALLENGE
One of the most prestigious literary awards in the world, the BAILEYS Women's Prize for Fiction – previously known as the Orange Prize for Fiction – celebrates excellence, originality and accessibility in women's writing from throughout the world.
The Longlist has just been announced, and it is truly awesome. There are 20 books on it, including last years Man Booker prize winner The Lumonaries, by Eleanor Catton, The Goldfinch by Donna, Taart, Jhumpha Lahiri's Lowland, Almost English by Charlotte Mendelson
and (my book of last year) A Girl is a Half Formed Thing by Eimear McBride.
It seems a shame to not mention them all here, but you can see the full list HERE.




Such is the strength of this list we have decided to do a BAILEYS BOOK CHALLENGE.

The challenge is to read as many, if not all of the shortlisted titles, before the winner is announced in June.

Here's how it's going to work;

As soon as the shortlist is announced on Monday April 7th, we'll order copies of each of the books, which we'll hopefully get by Thursday April 10th
We'll open late on that evening so people who want to take part can come along to say hello, take home one or more of the titles, and enjoy some rather lovely wine.
Over the next seven or so weeks the members of the Book Club will make a concerted effort to read as many of the six shortlisted books as they can.
The group will meet again on Tuesday June 3rd the evening before the winner is announced to discuss each of the books. After a heated debate, and a glass or two of wine, the group will vote for whom they think should win. We'll then announce our findings and wait with baited breath for the official announcement the following day.

We realise that the cost of the shortlist might be quite a lot, especially if there are hardbacks on it, and for us, the most important thing is that people can join in. So we've come up with a few solutions;

•For a one off payment of £25, we will be a lending library, where you can borrow each of the books for a week each. You can also keep your favourite book after the ceremony.
•We will offer a discount of 20% on the shortlist for Book Group members.
•A group of you could share the cost, so for example 3 of you could buy 2 books each.

However you decide to do this, we will do everything we can to make the books accessible to you. The important thing is that you're able to join in.
It's a bit of a challenge, but if you think you're up for it, come along.
-------------------------------------------------------------------------------------------------------
Email Vouchers
Available at the Big Green Bookshop
A Big Green Bookshop voucher.
Just get in touch with us, let us know how much you'd like to give and we can send that special someone an Email Voucher. The lucky recipient will get an email from us telling them that you've bought them a voucher to spend at the Big Green Bookshop. They can then choose books and we'll get them and post them (FREE P+P in the UK), whenever they choose to redeem it.
What a treat, eh?
Telephone; 020 8881 6767
Email; enquiries@biggreenbookshop.com
------------------------------------------------------------------------------------------------------
Welcome to The Big Green Bookshop, the award winning bookshop based in Wood Green, North London. We're situated just off the High Road, a couple of minutes walk from Turnpike Lane tube station, on Brampton Park Road (an oasis of calm in the metropolitan madness).

We stock a great and varied range of books, which we individually hand pick for our customers, as well as stocking a wide selection of cards, bookmarks and other essentials. If you can't decide what to get (the choice is sometimes too much), we sell our own vouchers too.

We have book groups for adults and children, which is open to everyone, and we also hold a staggering number of author signings and events for all ages. From Maisy Mouse to burlesque dancers, music legends and literary superstars, you can keep up with all the shenanigans on the website, or by signing up for our newsletter, just over there ------>

If we don't have the book you're looking for we can usually get it in within 48 hours, and you can now order online too, and we offer free delivery in the UK for orders over £5. You'll also find special offers, signed books and all manner of delights here, so it's definitely worth checking back every so often.

If the book you want is no longer available, we have an Out of Print Booksearch Service, which is totally free. Details can be found here.

There's so much more to tell you, but we'll let you have a look around for yourself. Have fun and come and say hello next time you're in the area. There's usually a pot of coffee on the go, and we have a very comfy sofa.
Latest Products
Shopping Basket
Welcome Guest
Mailing List
Subscribe to our mailing list below:
Popular Products
Sale Items