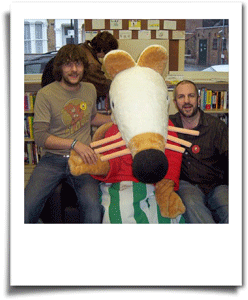 We sell books. That's what we do…. but we do plenty of other things too, you know.
Out of Print Book Search.
We have the facility to contact thousands of book dealers all around the world to find that hard to come by title for you. This is a totally free service. All you need to do is send us details of the book you're looking for and we'll do all the legwork for you. We'll reply to you within 5 working days (it's usually a lot quicker), with a quote and details of the condition of the book. If you want us to go ahead and order it, we'll need prepayment, as these books are in most cases non returnable. To fill out the form click here.
Gift Vouchers
We have our own vouchers, in denominations of £5, £10 and £25*. These make wonderful presents for that person that you never know what to buy for. They're also great for school prizes and rewards. And they're very pretty too.
*Other denominations can be specially printed with a weeks notice.
Gift Wrapping Service
For an extra £1, we'll wrap your book for you before we post it. We're here to make things easier for you.
Loyalty Card
These are proving very popular indeed! Just come in and pick up one of these. Every time you spend five pounds in the shop you get a point. When you have ten points you get five pound off anything in the shop (excluding tokens). It's absolutely free to join and all we need from you is your name and an email address.Terms and conditions apply.
Shop for Hire
If you're looking for a venue for a meeting or a party, then our bookshop could be the perfect place. We currently hire out the shop to a number of associations and businesses for very reasonable rates. Please get in touch for more information.
Out of Print Search Form
Plese fill in all the details you can. Don't worry if the information you have is a bit vague, we'll contact you if we need to know any more.
Fields marked with an asterisk (*) must be completed.